In advance of March 9, the start of free agency in the NFL, Pro Football Rumors will detail each team's three most glaring roster issues. We'll continue this year's series with the Washington Redskins, who narrowly missed a Wild Card berth after finishing with a 8-7-1 record.
Pending Free Agents:
Top 10 Cap Hits for 2017:
Other:
Three Needs:
1) Commit to Kirk Cousins: The Redskins are reportedly willing to use the franchise tag on quarterback Kirk Cousins for a second consecutive year, a move that would guarantee the sixth-year signal-caller nearly $24MM for the 2017 campaign. Cousins would likely sign the tender immediately (as he did last offseason), as the two one-year pacts would net him ~$44MM over a two-year period. From Washington's perspective, however, continuing to employ the franchise tag doesn't make much sense.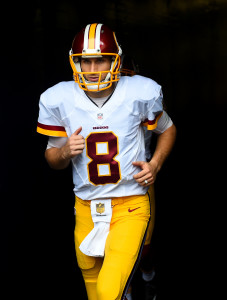 Had the Redskins worked out a long-term extension with Cousins last offseason, the club would have likely been forced to guarantee something in the neighborhood of $45MM — roughly the same total he'll earn from 2016-17 if franchised again — over the life of the contract. Cam Newton received $41MM in guarantees under the terms of his extension signed in June 2015, while Andrew Luck got $47MM fully guaranteed one year later (Aaron Rodgers still ranks first among quarterbacks with $54MM guaranteed). Because Washington is clearly willing to hand Cousins a significant amount of guaranteed cash, an extension is the best outcome for both parties.
Clearly, however, hindsight is 20/20, and there were legitimate reasons not to extend Cousins at this time last year. Cousins was coming off an excellent season, to be sure, but it was his first year as a full-time NFL starter, and there was some concern that he was simply a product of an effectively-schemed Redskins offense. Had Washington locked up Cousins for the long haul, only to see him turn back into a pumpkin this season, management would have been the subject much scorn. But the 28-year-old Cousins largely backed up his results this year, completing 67% of his passes for nearly 5,000 yards, 25 touchdowns, and 12 interceptions, while ranking third in DYAR and fifth in DVOA.
Head coach Jay Gruden has found his franchise quarterback, and while Cousins may not a be a top-five signal-caller, he's certainly among the league's top-12 QBs, making him an extremely valuable asset. The Redskins aren't going to start over the position — as usual, there is no quarterback talent available on the free agent market, and a win-now club like Washington isn't going to turn over its fortunes over to a rookie passer. Getting Cousins, who places first on PFR's 2017 Free Agent Power Rankings, under contract for the foreseeable future is the logical next step.
Cousins is reportedly targeting $23.94MM — the same total he'd garner under the franchise tag — annually, a figure that would make him the third-highest paid quarterback in the league on a per-year basis. Over the course of a five-year contract, Washington would be paying Cousins nearly $120MM, and given that recent quarterback contracts have included 35-40% fully guaranteed, Cousins would be looking at $45MM in guarantees. It's a huge total, but contract negotiations are based as much on timing as they are on talent. Cousins has played the free agency game correctly by betting on himself, and he's now poised to cash in.