Patriots veteran wide receiver Julian Edelman played most of the season with partially torn rib cartilage, league sources told ESPN's Adam Schefter.
Edelman suffered a rib injury on September 22 in a 30-14 win against the Jets and went to the locker room before halftime of that Week 3 game, grabbing his right rib area.
Tests revealed the torn rib cartilage, an injury that would sideline many players, especially playing a position such as wide receiver, for an extended period of time. But somehow, Edelman managed the injury through practice and on game days, and did not miss any time during the 2019 season.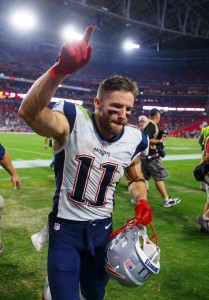 Along with the rib injury, Edelman also played with a separated AC joint in his left shoulder and was dealing with an injury to his left knee, according to the Boston Herald. Edelman will undergo surgery to repair his left shoulder and will have a left knee scope to help remove a loose body at some point this offseason.
Edelman, 33, struggled with some dropped passes at times this year, but despite the pain he played through, he remained a reliable target for Tom Brady and the Patriots.
From a statistical standpoint, the three-time Super Bowl winner had one of the best seasons of his career, as he made 100 receptions for a career-best 1,117 yards and six touchdowns. The Patriots' next-leading wide receiver, Phillip Dorsett, had just 29 catches for 397 yards with five touchdowns.
Injuries aside, as previously reported this morning, Edelman was arrested Saturday night and was cited for misdemeanor vandalism for allegedly jumping on the hood of a car in Beverly Hills, California, according to police. Edelman is under contract with the Patriots until 2021.
Follow @PFRumors