Prepare to feel old, because it's been five years since Peyton Manning's retirement. In 2016, the quarterback left the game as a two-time Super Bowl champion, the NFL's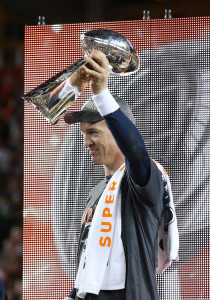 all-time leader in total wins, and one of the sport's greatest quarterbacks of all time.
Manning spent the first 14 seasons of his remarkable career with the Colts. Then, came his neck surgery in 2011, followed by spinal fusion surgery. He'd miss out on the entire '11 campaign, snapping his streak of 208 consecutive regular season starts. After months of rehab, Manning said he could barely throw a football ten yards. Many feared that he was finished at this point, but Manning disagreed. Ditto for the Broncos, who were happy to furnish him with a lavish contract in 2012.
The Broncos backstopped Manning by drafting Brock Osweiler in the second round of the 2012 draft, but it'd be a while before he took the reins. Instead, Manning went on to enjoy a four-year stint in Denver. He completed 66.5% of his passes for 17,112 yards and 140 touchdowns against 53 interceptions. Along the way, he picked up three of Pro Bowl nods, two First-Team All-Pro selections, yet another MVP award, and yet another Super Bowl ring.
When all was said and done, Manning set new watermarks for total wins by a QB (200), passing yards (71,940), and passing touchdowns (539). He also set the record for most single-season TD tosses (55; 2013). All in all, the No. 1 overall pick of the 1998 draft managed 14 Pro Bowl bids, seven First-Team All-Pro selections, and five MVP trophies. Needless to say, he could have called it quits in 2011 and still walked away as one of the NFL's GOATs. That's doubly true when considering his lifetime earnings of $250MM+ — not counting his piles of endorsement checks. Still, Manning wanted to go out on his terms, and he did just that.
Manning wasn't at his personal best in his final season, but he was good enough while teamed with the league's most feared defense. A few weeks after hoisting the Lombardi Trophy, Manning closed the book on his Hall of Fame career.
Photo courtesy of USA Today Sports Images.
Follow @PFRumors