This afternoon, the NFL cleared three of the four linebackers mentioned in the now infamous Al-Jazeera America documentary. The one player who has yet to be OK'd by the league is Mike Neal. That could be because Neal's interview took place later than the talks with James Harrison, Julius Peppers, and Clay Matthews. It's also possible that the NFL is still investigating the link between Neal and the Guyer Institute.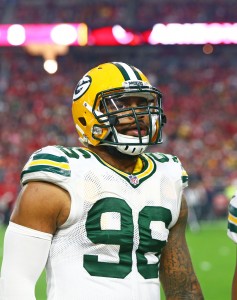 For what it's worth Neal did have a relationship with people at Guyer Institute, according to Jason Cole of Bleacher Report (on Twitter). The quick resolution for the other three, meanwhile, supports the claim that they did not know anyone at the Indiana-based company (link).
Neal, 29, started a career-high 15 games last season and has posted at least four sacks in each of the past four years. However, he has drawn very little in the way of free agent interest this offseason. A suspension from the NFL would further hurt his chances of continuing his career.
Photo courtesy of USA Today Sports Images.