Redskins quarterback Kirk Cousins won't be eligible to sign a multiyear contract until 2018, meaning his future will continue to be among the NFL's most popular topics leading up to free agency next March. There are multiple ways in which the Redskins could prevent Cousins from reaching the open market, but as those who have paid any attention to his situation know, it's going to be exceedingly difficult.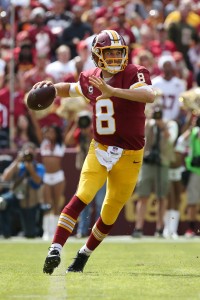 Washington retained Cousins this offseason via the franchise tag for the second straight year, and it saw the price rise from $19.95MM to $23.94MM in the process. Both are palatable costs for Cousins, regardless of whether you believe he's an elite-level signal-caller or merely a good one. On the other hand, the bill in 2018 for a third consecutive franchise tag – over $34MM – won't be so appetizing.
While the Redskins could hit Cousins with the $28MM transition tag as a less expensive alternative, that wouldn't prevent other teams from attempting to pry him away. Any club would have to pay an exorbitant amount to steal Cousins, but a bid that the Redskins don't match wouldn't entitle them to any compensation for his departure. The other option for the Redskins is to sign Cousins long term, which they've tried to do, but it wouldn't make much sense for the player to deprive himself of a chance to visit the open market and entertain pitches from around the league if he turns in another terrific season in 2017.
On the heels of his first two years as a starter, a period in which Cousins tossed 54 touchdowns against 23 interceptions, threw for 9,000-plus yards and completed over 68 percent of passes, the Redskins attempted to secure him on a five-year, $110MM extension proposal. Thanks in part to the $43MM-plus in guaranteed money he'll make from 2016-17, though, Cousins was able to turn down long-term comfort now in hopes of landing an even richer deal in 2018.
While the soon-to-be 29-year-old Cousins is willing to stay in Washington for the foreseeable future (and the team will have plenty of cap space as it negotiates with him next winter), there's a good chance spurning its offer will go down as a wise decision. With yet another productive season, Cousins would become the rare in-his-prime, franchise-caliber QB to reach free agency, following in the footsteps of Drew Brees in 2006, and many clubs would be in pursuit. Both the 49ers, with a Cousins fan in head coach Kyle Shanahan, and Browns have unsettled situations under center, significant spending room, and have been linked to Cousins this offseason. So, it's easy to imagine them chasing him in 2018. They won't be alone, though, with the Jaguars, Jets, Vikings, Cardinals, Rams, Broncos and Bills also standing out as teams that could plausibly participate in a Cousins sweepstakes.
How Cousins performs this season will be a fascinating precursor to what figures to be a riveting offseason for him and Washington. In Cousins, the Redskins found a gem in the fourth round of the 2012 draft, the same year they selected the once-dazzling but now-ruined Robert Griffin III at No. 2 overall. The Redskins believed at the time that RG3 would be the face of their franchise, but five years later, that distinction belongs to Cousins. Roughly eight months from now, though, the Redskins will once again be devoid at the game's most important position if the very real possibility of Cousins going elsewhere comes to fruition.
Photo courtesy of USA Today Sports Images.