The 2020 Dolphins will have two new coordinators, but in addition to the previously revealed Chan Gailey–Josh Boyer OC-DC setup, the rebuilding team will bring in some new position coaches as well.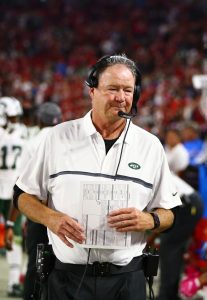 Steve Marshall will become the Dolphins' third offensive line coach in two years, while Curt Kuntz and Austin Clark will come aboard as assistant defensive backs and outside linebackers coaches, respectively. None of Miami's new assistants coached in the NFL this season.
Marshall will join Brian Flores' staff, following Pat Flaherty and Dave DeGuglielmo in the role. Both spent time as the Dolphins' O-line coach last year. Marshall coached in the Alliance of American Football last year; his most recent NFL work came as Jets O-line coach from 2015-17. Marshall also spent time with the Packers, Texans and Browns while previously serving as offensive coordinator at Virginia Tech, Texas A&M and North Carolina.
Kuntz will make an interesting rise, having spent the past eight years as the head coach at Struthers (Ohio) High School. Bill Belichick's father, former Navy scout Steve Belichick, attended Struthers. This loose Patriots connection makes sense on Flores' staff. Clark, 30, spent the past two seasons on Lovie Smith's Illinois staff. This will be Clark's first NFL gig.
Photo courtesy of USA Today Sports Images.