The Bills have gone an NFL-worst 17 years since their most recent trip to the playoffs, and offseason upheaval has unsurprisingly been commonplace during their post-1990s fall from grace. Buffalo has shuffled through various coaching staffs and front office setups during its embarrassing postseason drought, and after a seven-win showing in 2016, the club once again turned its football department over to a new regime.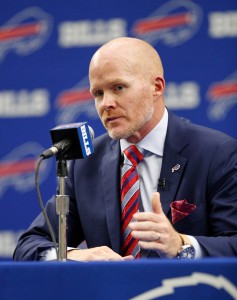 The changes began in earnest last December with the late-season firing of brash head coach Rex Ryan, who was more style than substance during his 15-win, 31-game stint in Western New York. While interim head coach/offensive coordinator Anthony Lynn looked like the favorite to succeed Ryan, the Bills ended up hiring Panthers defensive coordinator Sean McDermott, leaving Lynn to accept the Chargers' head coaching job. The businesslike, process-driven McDermott comes off as the antithesis of Ryan, and the neophyte head coach so impressed Bills owner Terry Pegula that he quickly became the the team's chief decision maker on football matters.
The initial expectation was that McDermott and general manager Doug Whaley would coexist, but the latter's influence at One Bills Drive seemed to shrink by the day after the former's introduction. At the end of April, right after the draft and nearly four months after McDermott's January entrance, the Bills handed Whaley his walking papers. Thanks to the odd timing of that move, Pegula and McDermott had to operate an early May GM search – one that concluded with the hiring of a McDermott confidant, former Panthers assistant GM Brandon Beane. Because the GM switch occurred well after the key stages of the offseason had come and gone, Beane hasn't had an opportunity to make his mark on the franchise. As such, the roster the Bills put on the field this year will be a Whaley/McDermott product.
Notable signings: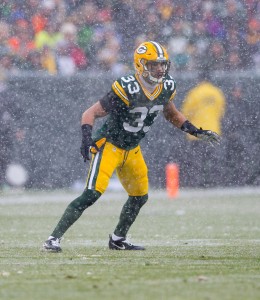 In exchanging Ryan for McDermott, the Bills committed to a scheme overhaul on defense, the area they primarily focused on in free agency. The Bills didn't dole out any exorbitant contracts, but they did sign former Packers defensive back Micah Hyde to a fairly sizable deal and award $5MM in guarantees to anonymous ex-Brown Jordan Poyer. Those two figure to form the top safety tandem in Buffalo, which axed its previous starting duo of Corey Graham and Aaron Williams over the winter.
Even though Graham and Williams fared well with the Bills, both players remain on the unemployment line, with age likely to blame in the soon-to-be 32-year-old Graham's case and neck issues the obvious culprit for Williams. While Hyde, 26, should be a solid addition for the Bills, having been a quality contributor to Green Bay's defense from 2013-16, it's less clear what they'll get from Poyer. Also 26, the unproven Poyer has just 10 starts in 48 appearances on his resume, and he's coming off a six-game season in which his performance ranked a below-average 70th among Pro Football Focus' 90 qualified safeties.
Judging solely on 2016 output, the Bills' most noteworthy free agent transaction was the re-signing of linebacker Lorenzo Alexander, who broke out under Ryan last season. A journeyman who tallied just 9.5 sacks over his first nine NFL campaigns, Alexander stunningly piled up 12.5 in 2016, his age-33 campaign, en route to second-team All-Pro honors. As great as Alexander was last season, he'll have to prove himself all over again this year. Not only is he an aging player with a limited track record, but Alexander will no longer operate in the 3-4 scheme in which he was a force as an edge player. Rather, he'll play strongside linebacker in the Bills' 4-3, and if Alexander turns back into a pumpkin without Ryan, the Bills will be able to escape the second year of his contract next winter without much difficulty.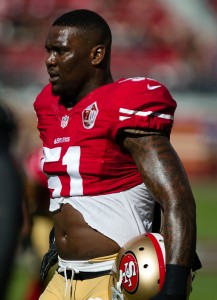 Among those joining Alexander in the Bills' linebacker corps this year will be Gerald Hodges, whom the team plucked from the bargain bin in May. The signing of the talented Hodges is reminiscent of the Bills' pickup of fellow linebacker Zach Brown last year. It was a head-scratcher that Brown had to settle for a minimal deal in the spring after he had three productive years in Tennessee. Sure enough, Brown went on to serve as a terrific buy-low acquisition for the Bills, with whom he starred in 2016 before heading to the Redskins in free agency.
The potential exists for Hodges to offer a similar return on investment, given that the 26-year-old registered 80 tackles, three sacks and two interceptions last season in San Francisco. Along the way, he ranked an outstanding 21st among PFF's 88 linebackers (Brown was 18th). Now, it appears Hodges, Alexander, Preston Brown and Reggie Ragland, who missed his rookie year with a torn ACL, will function as the Bills' top LBs.