Bills running back LeSean McCoy has been named in a lawsuit filed by his ex-girlfriend, reports WKBW.com. On Friday, Delicia Cordon filed a personal injury lawsuit against the veteran and his former University of Pittsburgh teammate, Tamarcus Porter. The lawsuit stems from a July home-invasion incident in which Cordon was injured and robbed.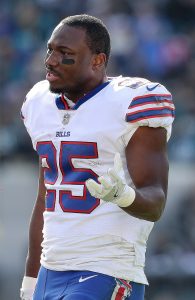 Cordon has continually pointed the finger at McCoy, claiming the 30-year-old was somehow responsible for the robbery (the running back has consistently denied any wrongdoing). While a suspect hasn't been named in the criminal investigation, the lawsuit argues that McCoy should be held responsible for the injuries.
As ESPN's Mike Rodak explains, the suit says McCoy "breached his duty to use ordinary care to protect Plaintiff from dangerous activities being conducted at the Residence" by changing and withholding the security codes to the house. The lawsuit also details arguments between the two, with Cordon accusing the running back of "beating his dog and beating his son frequently, as well as other issues."
As Rodak writes, the lawsuit does not specifically accuse McCoy or Porter "of conducting or ordering the attack." However, since Porter told police that he had access to a live feed of the home's security cameras, the suit is arguing that the pair had "actual and constructive knowledge of criminal activity existing on the property on July 10, 2018."
Last month, the NFL said they were still reviewing the matter. McCoy reported to Bills camp in late July.
Photo courtesy of USA Today Sports Images.