Teddy Bridgewater will soon be able to return to the field. The Vikings quarterback has been cleared to practice, Chris Mortensen of ESPN.com hears (on Twitter). He got the green light from the very same doctor who performed the surgery on his dislocated knee.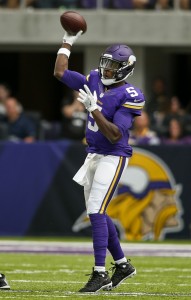 Bridgewater suffered a gruesome knee injury last August and missed the entirety of the 2016 season. At the time of the injury, it wasn't certain when he would return or even if he would able to. After more than a year of difficult rehab work, Bridgewater is on the verge of being able to play.
Whether Bridgewater actually gets to see the field this season will depend on a few factors. Vikings starter Sam Bradford has been sidelined for the last game-and-a-half with a knee injury, but backup Case Keenum has proven to be a capable fill-in. If Bradford returns to full health or Keenum continues to roll, Bridgewater might not get the chance to take the field in 2017. However, he could be called upon if one or both QBs cannot get the job done.
Bridgewater will begin practicing on Wednesday. If the Vikings take Bridgewater off the PUP list, they will trigger a three-week window before having to decide whether to place him on the active roster or park him on injured reserve. Ian Rapoport of NFL.com (on Twitter) hears that the team expects to activate him this week or next week.
Photo courtesy of USA Today Sports Images.