In advance of March 14, the start of free agency in the NFL, Pro Football Rumors will detail each team's three most glaring roster issues. We'll continue this year's series with the New York Jets, who were more competitive than expected in 2017.
Pending Free Agents:
David Bass, LB
Freddie Bishop, LB (ERFA)
Bruce Carter, LB
Morris Claiborne, CB
Xavier Cooper, DE (RFA)
Demario Davis, LB
Kony Ealy, DE
Quincy Enunwa, WR (RFA)
Chris Gragg, TE
Chris King, WR (ERFA)
Josh McCown, QB
Doug Middleton, S (ERFA)
Rontez Miles, S (RFA)
Mike Pennel, DT
Brent Qvale, T (RFA)
Julian Stanford, LB
Neal Sterling, TE (RFA)
Ed Stinson, DE
Lawrence Thomas, DE (ERFA)
Eric Tomlinson, TE (ERFA)
Top 10 Cap Hits for 2018:
Other:
Projected cap space (via Over the Cap): $74,579,406
Sixth pick in draft
Must exercise or decline 2019 fifth-year option for DT Leonard Williams
Three Needs:
Identify their next starting quarterback: Josh McCown did a solid job last year, but his contract expires in March and his 39th birthday is coming in July. Meanwhile, backups Bryce Petty and Christian Hackenberg stand as the Jets' only QBs under contract. Petty, a Baylor product who was selected in Mike Maccagnan's first draft as GM, completed less than 50% of his passes upon taking over for McCown at the end of the season. Hackenberg, a second round pick in 2016, has yet to play a down of real NFL football.
It is possible that the Jets will look to re-sign McCown as their Week 1 starter after he turned in a handful of brilliant performances last year. In each of the Jets' five wins, McCown completed more than 70% of his passes. He also helped Gang Green get out to a 14-0 lead over the Patriots in October before Tom Brady & Co. came roaring back to win by a final of 24-17. Still, that's only a viable scenario if the Jets draft a promising but raw QB in April. Otherwise, the Jets will only consider keeping McCown as a high-priced backup, provided that he would be willing to serve in that capacity and the Jets can justify spending ~$7MM on a reserve.
The good news for the Jets is that this year's potential free agent QB crop has a handful of quality options. With tons of cap room (though, not as much as some other teams have), you can expect the Jets to make a run at Kirk Cousins if he becomes available. The Redskins reserve the right to hit him with a third consecutive franchise tag or this could be the offseason that they finally give him the lucrative long-term contract that he's looking for. But, if the Redskins allow him to test the open market or even the restricted market, the Jets won't hesitate to get in on the bidding. This past season was not Cousins' finest, but he has shown that he can be a backend top-10 signal caller when surrounded with the right personnel. If he reaches free agency, he'll be the best QB up for grabs in years.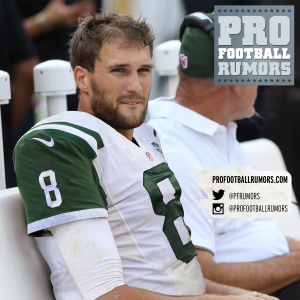 The Chiefs are expected to move on from Alex Smith this year and if they can't find a viable trade for him, they might release him outright. Adding Smith wouldn't be as sexy of a move as signing Cousins, but Smith did lead the Chiefs to the postseason when many expected him to crash and make way for Patrick Mahomes. You also might be surprised to learn that Smith graded out as Pro Football Focus' sixth-best quarterback of the season, tying him with Russell Wilson and putting him ahead of Jimmy Garoppolo, Aaron Rodgers, and Matthew Stafford.
Case Keenum, PFF's No. 8 ranked QB, shocked the world with his performance this year and he just might help the Vikings reach the Super Bowl for the first time since 1976. It's hard to imagine Minnesota letting him get away at this point, but if he's out there, the Jets will at least put feelers out for him. Of course, the clear downside with Keenum is that he accomplished very little before this season. Has Keenum, almost 30, finally come into his own? Or was his success the product of Pat Shurmur's system? On the plus side, Keenum looks the part of a postseason winner in this limited sample, something that could not necessarily be said for Smith. Smith is 2-5 in his playoff career with his last postseason W coming in 2015.
Beyond those three, there are some intriguing, yet risky, QBs who could be available. Teddy Bridgewater looked the part of a rising star in his first two NFL seasons, but he has not seen real playing time since the end of the 2015 campaign. Tyrod Taylor, at times, has looked the part of a legitimate NFL starter, but he would be more of a bridge option than anything for the Jets. Ditto for Bridgewater's teammate, Sam Bradford, who is also scheduled to reach free agency in March.
Although he's largely untested, QB-needy teams like the Jets will be keeping an eye A.J. McCarron's grievance case. If he wins, the Bengals QB will go from an restricted free agent to a UFA, allowing him to finally cash in and get his opportunity as a starter. It's unclear how the Jets' decision makers feel about McCarron, but the Browns' old regime was willing to part with a second-round pick and a third-round pick to land him before the trade deadline.
Technically speaking, Drew Brees is also slated to be a part of this group, but he is widely expected to remain with New Orleans. Other big names like Eli Manning might become available, but the Jets have gotten an up close look at the two-time Super Bowl champ and are certainly aware of his sharp decline. There's no scenario in which the Jets would sign Manning to be their starter for multiple seasons, nor is there a scenario in which Manning agrees to groom a top draft pick only to step out of the way during the season.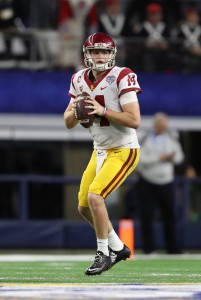 Armed with the No. 6 pick, the Jets will have a crack at this year's best quarterbacks, though they would have to get ahead of the Giants at No. 2 in order to have their pick of the litter. Despite their hiccups in 2017, USC's Sam Darnold and UCLA's Josh Rosen remain the top arms in this year's class with Darnold representing the perceived safer choice and Rosen possibly having the higher ceiling. If the Jets stay at No. 6 and miss out on both, they could entertain the likes of Josh Allen, Baker Mayfield, and Lamar Jackson.