Earlier this month, DeAngelo Williams told ESPN.com's Adam Schefter that he wanted to continue playing in 2017. However, he said that there were four mystery teams he refused to play for. The running back has now revealed the identity of those teams (audio link).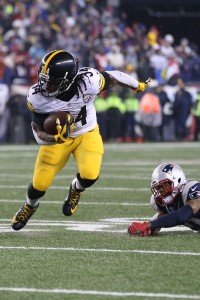 [RELATED: Finding A Fit For RB DeAngelo Williams]
Surprisingly, the Panthers are one of the teams that Williams says he will not sign with. The 34-year-old spent the first nine seasons of his career in Carolina, but he left there with a bad taste in his mouth because of the way his departure played out. He also said that he would not sign with the Cowboys, because he grew up a 49ers fan. The Browns and Jaguars, Williams says, are also not in consideration, because of their losing seasons. Williams was not exactly delicate as he broke down his reasons for crossing off each club.
"They don't ever show up during the playoffs," Williams said of the Cowboys. "They always disappear in the playoffs."
In theory, that leaves 28 teams for Williams to possibly join this summer. However, his age and odometer are clearly working against him as we have heard little chatter around the veteran tailback. They say that beggars can't be choosers, and Williams is being a chooser in the most unorthodox way by ruling out four teams that he could possibly join.
As of this writing, all four of the teams listed by Williams seem pretty well set at running back. However, if one of those clubs loses an RB to injury this summer, he may regret his words.
Photo courtesy of USA Today Sports Images.