The Bears have signed first round pick Mitch Trubisky, according to a team announcement. It's good timing for both sides as Bears rookies report to training camp today.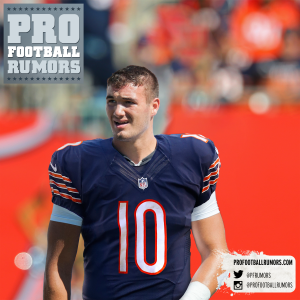 Even as the two sides took additional time to come to an accord, Trubisky made it clear that he would not be training camp holdout a la Joey Bosa.
"I'm not going to miss any practices or anything like that," Trubisky said in late June. "I'm excited to sign my contract as soon as possible, however that goes down. But I don't see that being held out through training camp; even if it did, I'm going to be practicing and all that. I'm looking forward to getting it done as soon as possible. I'm a Chicago Bear, no matter if they let me sign or what. I guess not, but I am."
The Bears shocked the world in April by not only selecting Trubisky with their top pick, but trading up from No. 3 overall to No. 2 for the right to do it. Switching places with the 49ers cost picks No. 67 and No. 111 in the 2017 draft, plus a 2018 a third-round pick.
The pressure is on for Trubisky, though it won't necessarily be felt right away. For now, the plan is for free agent acquisition Mike Glennon to be the Bears' starter while Trubisky learns from the bench.
The deal leaves us with six unsigned first round picks: defensive lineman Solomon Thomas (49ers), wide receiver Corey Davis (Titans), safety Jamal Adams (Jets), quarterback Patrick Mahomes (Chiefs), cornerback Gareon Conley (Raiders), and safety Jabrill Peppers (Browns).
Photo courtesy of Pro Football Rumors on Instagram.