Edge rusher David Irving is facing a four-game ban and the Cowboys might replace him with a player who knows all too well about suspensions. The team is doing its homework on recently released linebacker Daryl Washington, according to a team source who spoke with Jason Cole of Bleacher Report (on Twitter).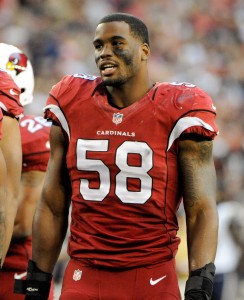 [RELATED: Cowboys DE David Irving Facing Four-Game Ban]
Washington was suspended indefinitely in 2014 for violating the NFL's substance abuse policy and has not played since Week 17 of the '13 campaign. The linebacker was reinstated by the league in late April, but the Cardinals were not interested in keeping him – at least, not at the salary that was dictated by his contract.
The linebacker was a Pro Bowler in 2012 after recording an eye-popping 134 total tackles with 9.0 sacks. He was productive again in 2013, but he has now been out of the game for three straight NFL seasons. The Cowboys may see Washington as a low-risk, high-reward type of player since he'll be hard pressed to find a big money deal at this juncture.
For his part, Washington claims that he is a changed man who will not run afoul of the league's rules.
"Obviously, from a standpoint I've grown and matured over the years of being able to kind of really appreciate life and appreciate the game that I took for granted at one point," Washington said recently. "When you feel like you're on top of the world. When you're on that pedestal, you feel like everything is easy and nothing would happen. But once it's taken away from you, you really feel that much more grateful for the opportunity to just say, you know what, I really took these things for granted so when I get back now it's time to go even harder. At this point in my life, I feel much better mentally, physically, spiritually and I'm in that right mind frame."
The Cowboys are first known team to consider Washington since he was released roughly one month ago.
Photo courtesy of USA Today Sports Images.