Last September, when the NFL was investigating domestic violence allegations Tiffany Thompson made against Cowboys running back Ezekiel Elliott, she expressed a desire to blackmail him, Charles Robinson of Yahoo Sports reports. Thompson and her friend had a text messaging exchange in which the former noted that she was considering selling sex videos of herself and Elliott. When the friend suggested leveraging the videos against Elliott, Thompson replied, "I want to bro." Thompson also registered the the email address "ezekielelliott sex vids" in August 2016, according to Robinson.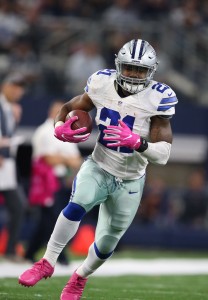 While Elliott is appealing the six-game suspension the NFL handed him last week as a result of its domestic violence investigation, the texts between Thompson and her friend won't necessarily lead to a shorter punishment for him. There's nothing in them to disprove Thompson's accusations against Elliott, for one; further, the league already knew of the texts when it was looking into the case, as it explained in its 160-page report of the investigation that Robinson obtained:
"The League's forensic experts also recovered evidence from Ms. Thompson's phone that she had registered an email address titled, "ezekielelliott sex vids" during the month of August, 2016. In addition, a text message with her friend [name withheld by Yahoo] was recovered that showed them talking about their need to make more money and Ms. Thompson raised the idea of selling the sex tapes she had of herself and Mr. Elliott. Her friend [name withheld] said they should blackmail Mr. Elliott with them, they'd be "millionaires". Ms. Thompson replied that she'd like to but was scared. When Ms. Thompson was asked about this by the League's investigators, she stated that she did have sex tapes of her and Mr. Elliott on her phone and she did open the email account but she denied doing so to blackmail Mr. Elliott."
That's not going to fly for Elliott's camp, which will use the texts to establish a lack of credibility on Thompson's part, according to Robinson. Elliott will have the NFLPA on his side, which the league accused on Wednesday of "spreading derogatory information to the media about the victim in Ezekiel Elliott's discipline case." The NFLPA issued a response on Twitter, contending that "the League office has a history of being exposed for its lack of credibility."

Photo courtesy of USA Today Sports Images.