Jalen Ramsey wants out. The Jaguars, meanwhile, don't necessarily want to let him go.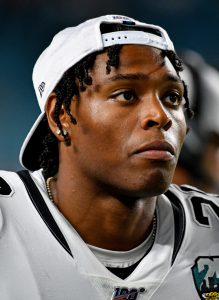 The Jags' star cornerback has been frustrated for some time – he's been openly campaigning for a top-of-the-market extension, but the Jaguars have been mostly unwilling to have serious talks with him. Then, this season, he had a major blowup with head coach Doug Marrone.
On the field, Ramsey is upset that he has been utilized in zone coverage, even though he ranks as one of the league's best man-to-man defenders. Off the field, he wants to secure the bag, though he no longer wants that bag to come from the willing hands of owner Shad Khan.
With that in mind, the Jaguars seem to be following the old axiom of "Don't tell them no. Tell 'em how much it'll cost." The asking price was initially set at two first-round picks for Ramsey. Now, it has advanced to two first-round picks, plus more. The Jaguars did secure an offer of two first-round picks, but they declined, because the offer came from a contending club that is likely to pick near the backend of the draft.
Reportedly, it will take an "astronomical" offer for the Jags to part with him, but that could just be an attempt by the Jaguars to improve their leverage. Meanwhile, roughly every other team in the NFL has at least some interest, but they're scared off by the draft capital required since acquiring Ramsey would also mean giving him a fat contract.
Of course, a first-round pick from, say, the Patriots, does not carry the same value as a first-round pick from, say, the Dolphins. But – we want to know: if you were an NFL GM, would you be willing to cough up two first-round picks for Ramsey, with the knowledge that you would also have to give him an extension north of $75MM?
Cast your vote below (link for app users) and back up your choice in the comments.
Photo courtesy of USA Today Sports Images.