The deadline for NFL restricted free agents to sign offer sheets with rival clubs is April 21, so RFAs have just under a month to discuss deals with other teams. So far, only one RFA — interior offensive lineman Ryan Groy — has inked an offer sheet, but the Bills matched the terms of the pact, meaning he'll head back to Buffalo.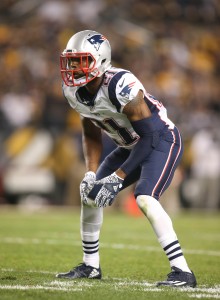 Patriots cornerback Malcolm Butler, tendered at the first-round level, is reportedly negotiating a contract with the Saints, although most observers don't expect New Orleans to sacrifice the No. 11 overall pick in order to sign Butler, with a trade involving a later selection viewed as far more likely. Elsewhere, Browns running back Isaiah Crowell is also drawing interest, although clubs would need to give up a second-round pick in order to sign him.
In total, more than 40 restricted free agents have been tendered this offseason. Let's take a look at where things stand with those RFAs:
Signed to offer sheet:
First-round tender ($3.91MM):
Second-round tender ($2.746MM):
Original round / right of first refusal tender ($1.797MM):
Tendered, then extended:
Tendered, then withdrawn:
Photo courtesy of USA Today Sports Images.