Last summer, linebacker DeMeco Ryans pushed hard to continue his NFL career. Unfortunately, he was unable to find a landing spot in 2016. Now on the verge of his 33rd birthday, Ryans is apparently done playing. Ryans has signed on with the 49ers' coaching staff as a defensive quality control coach, which signifies that he is officially retired.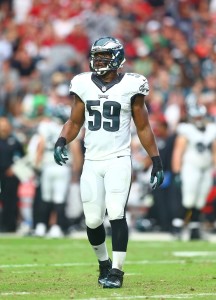 [RELATED: 49ers To Have Interest In Jacob Tamme?]
Ryans, released by the Eagles this time last year, spent four seasons in Philadelphia after playing for the Texans for his first six years in the NFL. A two-time Pro Bowler in Houston, Ryans had two strong seasons with the Eagles before an Achilles injury and a reduced role slowed him down. In 2015, he recorded 49 tackles to go along with an interception, a forced fumble, and five passes defended.
When he was unable to find a gig last summer, Ryans indicated that he was comfortable with calling it quits. In July, Dallas Robinson of PFR proposed Ryans as a replacement for Rolando McClain, but Dallas went in a different direction. After a lack of real interest from around the league, Ryans will now begin the next chapter of his football life.