The 2017 NFL Draft begins on Thursday night, and Pro Football Rumors is back with its second mock draft of the year. While our initial mock attempted to project what will happen in Round 1, we've taken a different approach for mock draft 2.0.
PFR editor Zach Links and I conducted this live mock draft on Tuesday morning, rotating picks and breaking down what we would do were we in charge of these selections. We posted each pick on Twitter, followed by a short explanation of our thought process on this page.
Here's the complete mock:
1. Cleveland Browns (Zach) – Myles Garrett, LB, Texas A&M
I suspect this is the easiest pick either one of us will make all day. Garrett is the best pure talent in this year's draft and the Browns would be foolish to go in any other direction at the top of the draft.
2. San Francisco 49ers (Dallas) – Malik Hooker, S, Ohio State
Reports that the 49ers are considering a quarterback with the second overall selection stand out as a potential smokescreen, and instead San Francisco uses the No. 2 pick to bolster its defense. Hooker, who recently earned a full medical clearance following combine rechecks, has been commonly linked to the Chargers as a perfect fit for Los Angeles defensive coordinator Gus Bradley's scheme. But the 49ers are running the same defensive look as the Chargers under new DC Robert Saleh, and Hooker would give the team a centerfielder with the upside of an Earl Thomas. San Francisco's plan to convert nickel cornerback Jimmie Ward to safety won't stop it from adding Hooker, who is possibly the draft's No. 2 overall prospect.
3. Chicago Bears (Zach) – Solomon Thomas, DL, Stanford 
Dallas' bold pick left my Bears with a golden opportunity. The Bears could go safety or cornerback in this scenario, but the talent of Thomas is too good to pass up. Thomas can be used on both the inside and outside of the Bears' defensive line and I see him as one of the safest talents on the board.
4. Jacksonville Jaguars (Dallas) – Gareon Conley, CB, Ohio State
No, we didn't forget the Jaguars used a top-five pick on Jalen Ramsey in 2016 and then handed a $67.5MM contract to A.J. Bouye in free agency last month. But one of Ramsey's key selling points last year was his versatility: while he's a shutdown corner at his best, Ramsey can man the slot, cover tight ends, and dabble at safety. As such, adding Conley doesn't mean Jacksonville is facing cornerback overload, especially given that NFL clubs are in the nickel more than two-thirds of the time. Conley is viewed as a safer prospect than his Ohio State teammate Marshon Lattimore, and he'd give the Jaguars a Broncos-like secondary.
5. Tennessee Titans (Zach) – Marshon Lattimore, CB, Ohio State
The Titans, arguably, get the best cornerback available in the draft even though they are the second team to address the position. No, we don't have a ton of film to go on for Lattimore, but his combine numbers indicate that he could be a megastar. Few teams in the NFL would have a young cornerback duo like the Titans if they can pair Logan Ryan with Lattimore.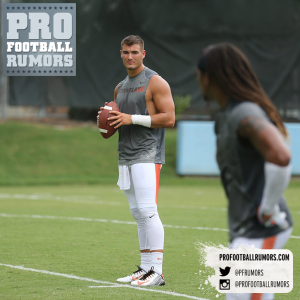 6. Cleveland Browns (projected trade with Jets) (Dallas) – Mitch Trubisky, QB, North Carolina
In need of a franchise quarterback, the Browns send the No. 12 and No. 52 pick to the Jets in exchange for No. 6 with the intention of drafting Trubisky. It's a slight overpay for Cleveland (at least, based on Chase Stuart of Football Perspective's draft value chart, which is likely what the Browns front offices uses), but it does the deal anyway to land a long-term option under center. Given that Browns owner Jimmy Haslam is reportedly pressing the club to select a quarterback early — and the fact the Cleveland may still be considering Trubisky with the first overall selection — landing the UNC signal-caller at No. 5 for the cost of a mid-second-round pick is a move the Browns can't pass up.
7. Los Angeles Chargers (Zach) – Jonathan Allen, DL, Alabama
In this scenario, it seems like Allen's subpar workouts have led to a bit of a drop. His size (6'3″) is a bit of a concern, but he has the ability to be an effective defensive end while spending some time on the inside as well. Allen would look great lining up on the opposite end of Joey Bosa.
8. Carolina Panthers (Dallas) – Corey Davis, WR, Western Michigan

Sitting at pick No. 8, the Panthers certainly have options. General manager Dave Gettleman & Co. could go after a running back like Leonard Fournette or Christian McCaffrey, bring in a young edge rusher to play alongside veterans like Charles Johnson and Julius Peppers, or even reach for an offensive tackle given Michael Oher's health questions. With Ted Ginn Jr. and Corey Brown having defected via free agency, the Panthers need another wideout to pair with Kelvin Benjamin. Enter Davis, who topped 1,400 yards and 12 touchdowns in each of the past three seasons.
9. Cincinnati Bengals (Zach) – Reuben Foster, LB, Alabama
Foster's stock, by all accounts, is slipping after he turned in a diluted urine sample and got into an argument with a hospital worker at the combine. However, with other teams in the market for an inside linebacker (like the Jets at No. 12, for example), it would be somewhat risky to trade down into the teens and expect Foster to still be there. The Bengals have been willing to overlook character concerns in the past, so I see no reason why they can't do the same here and land the Alabama star.
10. Buffalo Bills (Dallas) – Jamal Adams, S, LSU

While the Bills gave Jordan Poyer a four-year deal with $6MM in guarantees earlier this offseason, I'm still not convinced Buffalo views him as a definite starter. Those questions come to the forefront with Adams still on the board, and the Bills don't hesitate to take the LSU defensive back. With ex-Packer Micah Hyde also in the fold, Buffalo can field one of the more diverse and flexible safety tandems in the league. Adams is viewed as a leader in the locker room, and has been favorably compared to former Cowboys All Pro Darren Woodson by Lance Zierlein of NFL.com.