The Packers have signed free agent tight end Marcedes Lewis following his visit to Green Bay's facilities today, as Lewis himself indicated on Instagram.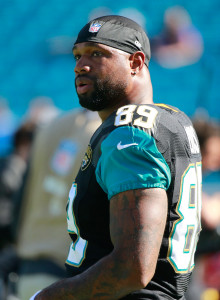 Green Bay, of course, already inked fellow tight end Jimmy Graham earlier this offseason, but Graham is far more likely to be placed in the slot than actually line up and block. While he'll likely compete for backup tight end snaps with incumbent Lance Kendricks, Lewis may have the advantage, especially in the run game. Indeed, Pro Football Focus graded Lewis as the single-best run-blocking tight end in the NFL in 2017.
Lewis, who turned 34 years old last week, hasn't been a prolific receiving threat in roughly a half-dozen years, but he won't be asked to work much in the passing game given the presence of Graham and starting receivers Davante Adams and Randall Cobb. Last season, Lewis posted numbers roughly in line with his age-30+ production, managing 24 receptions for 318 yards and five touchdowns, three of which came in a single Week 3 contest against the Ravens.
The Packers were the only club known to have expressed interest in Lewis, who was released by the Jaguars in late March. Jacksonville's decision to part ways with Lewis came as a surprise, especially given that the club had exercised his 2018 option just a month prior. Lewis had been set to earn a base salary of $3.5MM for the upcoming campaign, but the Jaguars cleared that entire total by releasing the veteran tight end.
Green Bay won't have to worry about sacrificing a compensatory pick in exchange for signing Lewis, as the May 8 deadline for free agents to factor into the comp pick formula has already passed. That may have been a more important consideration for former Packers general manager Ted Thompson, as new GM Brian Gutekunst has shown a willingness to explore free agency.
Photo courtesy of USA Today Sports Images.