Saddled with more needs than most teams in the NFL, the 49ers are making it clear they're open for business regarding the No. 2 overall pick. A draft without a surefire No. 2 prospect, after Myles Garrett, has led John Lynch to consider trading down, per Eric Branch and Vic Tafur of the San Francisco Chronicle.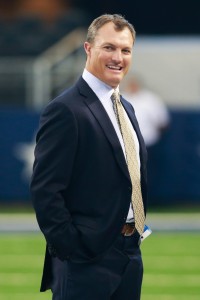 "We could stay pat right there and find a fabulous player, a game-changing player," Lynch said. "It gives us a lot of flexibility to do some other things if we chose to be bold. There are going to be people that covet the pick we have, so there's going to be some people that want to move up."
This is the 49ers' highest draft pick since the franchise held the 2005 No. 1 choice, taking Alex Smith with that opportunity. Lynch acknowledged in a recent radio interview with KNBR the No. 2 selection is a "tremendous asset." Mock drafts don't have a consensus for the 49ers at No. 2. Both ESPN.com's draft expects, Mel Kiper Jr. and Todd McShay, have the team going quarterback here (Insider links), Kiper sending Mitch Trubisky to San Francisco and McShay envisioning Deshaun Watson impressing the Lynch-led staff enough to invest in him at No. 2. Matt Miller of Bleacher Report recently mocked linebacker Reuben Foster to the 49ers here, and CBS Sports' Rob Rang pegged Foster's Alabama teammate, Jonathan Allen, to San Francisco.
Branch and Tafur note the 49ers would presumably be thrilled if the quarterback-starved Browns passed on Garrett, with the 49ers being devoid of a high-end pass-rusher. Cleveland's trade out of the No. 2 pick last year would help provide a blueprint should the 49ers pull the trigger on a trade. The Eagles surrendered their 2017 first-rounder (No. 12), third- and fourth-round picks last year and a 2018 second-rounder for the right to move up and take Carson Wentz.
Kyle Shanahan acknowledged the 49ers won't reach for a quarterback. Fronted by Trubisky, Watson and DeShone Kizer, this class has been among the more scrutinized quarterback rookie pools in recent memory. Another team viewing one of these passers in higher regard than the 49ers may be the circumstance that induces a trade.
"The worst mistakes you can make is you take a guy who isn't that good of a player, or worthy of that," Shanahan said. "The expectations change. You put a guy in a position that is really unfair to him and you set your organization back. And then you're trying to commit to a guy who … shouldn't have been put in that position."
The 49ers have been connected to veteran quarterbacks Kirk Cousins, Jay Cutler and Jimmy Garoppolo, and Lynch recently met with Colin Kaepernick, who has an opt-out decision forthcoming. San Francisco has 10 picks in the coming draft.
Photo courtesy of USA Today Sports Images.