Reggie Bush isn't done yet. At least, he hopes he isn't. The former No. 2 overall pick says that he intends to play in 2017.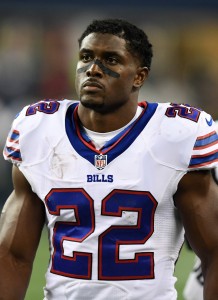 "That's my plan," Bush said (via NFL.com). "Going into year 12, I still feel like I have a lot left to prove, a lot left to give this game before I'm done. I don't want to put a number on how many years I have left. I think once you get past year 10, you just gotta take it one year at a time and go from there. I'm still excited, still looking forward to playing football again this season, still staying in shape, still working out. I plan to be somewhere in September."
Bush, 32, appeared in 13 games for the Bills last year, but he didn't do a whole lot. He finished out the season with seven catches for 90 yards plus 12 carries for negative three yards and one rushing touchdown. Bush doesn't have anyone beating down his door after that performance, but he says that he has "spoken to a few teams."
For what it's worth, Bush understands that he won't be receiving the kind of lucrative offers that he was getting as a free agent prior to the 2013 season.
"I think it depends. If you're in it for the money, then it's possible," Bush said. "But I started playing football when I was eight years old, and it's always been a strong passion, and it's always been a passion that's never gonna leave. For me at this point, I've made plenty of money and it's not about the money for me. I want to get a chance to go out there on the football field and just continue to play the sport that I love to play. I'm so passionate about football and I love it, and I'm not ready to hang it up yet. I want to make sure I exhaust everything before I hang it up so I don't have any regrets once I do hang it up."
Photo courtesy of USA Today Sports Images.