The 49ers are giving strong consideration to taking a quarterback with the No. 2 overall pick, according to sources who spoke with NFL.com's Ian Rapoport. The Niners already have free agent pickups Brian Hoyer and Matt Barkley on the roster, so this news comes as something of a surprise.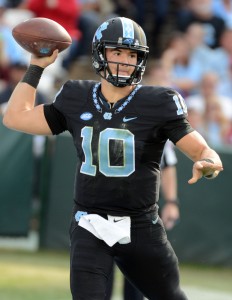 Of course, every piece of news must be taken with a grain of salt on draft week. The Niners could be giving real thought to Mitch Trubisky and other top QBs, but they might also be trying to send a message to teams that are interested in taking a top signal caller. The Browns, for example, have an affinity for Trubisky (or, at least, some Browns execs do), and the Niners could be scaring them into trading up to the No. 2 pick. Rapoport hears that the Browns are one of several teams considering a move up to No. 2, so this could be a clever smokescreen on the part of SF brass.
Assuming Myles Garrett goes No. 1 overall, taking a QB at No. 2 would mean bypassing several intriguing talents like Stanford's Solomon Thomas. The pick might also rule out a pursuit of Kirk Cousins after the 2017 season, but it's too early to know that for certain. What we do know is that San Francisco standing pat and taking a QB at No. 2 would cause a surprising domino effect that would radically alter the rest of the first round.
Photo courtesy of USA Today Sports Images.