The Rams have exercised Jared Goff's fifth-year option, according to a team announcement. With that move, the quarterback is now under contract through the 2020 season.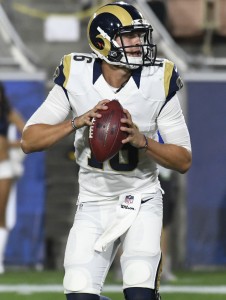 Some of this year's fifth-year option calls may be tricky, but this one goes in the no-brainer category. After a rough start to his professional career, Goff has been named to the Pro Bowl in each of the past two years under the tutelage of head coach Sean McVay. He of course led the Rams to an NFC Championship and a Super Bowl appearance in 2018, and his stat line from last season — 32 TDs against 12 interceptions, a 64.9% completion percentage, and a 101.1 QB rating — indicate that he will be the club's signal-caller for a long time.
Los Angeles has not yet broached a re-up with Goff, but given that he is now under club control through 2020, there's not a ton of urgency on that front just yet. When asked about an extension recently, Goff said, "Not on my mind at all. I know the deal and understand that I hired an agent for that reason, and things always work out. You continue to play well, it will work itself out."
Goff will earn a little over $4.2MM this year, and the fifth-year option will pay him $22.783MM in 2020 if the two sides do not work out a long-term deal before then. His 2020 salary is guaranteed for injury only, but McVay indicated recently he is pleased with Goff's career track, despite Goff's shaky Super Bowl outing, so it is hard to imagine Goff and the Rams parting ways anytime soon.
Zach Links contributed to this post.
Photo courtesy of USA Today Sports Images.