The Rams have agreed to sign Dan Orlovsky, the quarterback tells ESPN producer Jason Romano. He'll now try to make the final 53-man cut as a backup to youngster Jared Goff.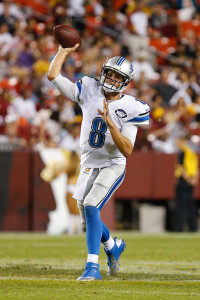 [RELATED: Rams Hire Former Broncos GM]
As it stands, Sean Mannion is slotted in as the primary understudy to Goff. There has been no indication that the Rams are dissatisfied with the 25-year-old signal caller, so Orlovsky could be looking at a QB3-or-bust situation.
Orlovsky has spent time with the Texans, Colts, and Buccaneers, but he is best known for his two stints with the Lions. Since being drafted in 2005, Orlovsky has made just 12 career starts. He'll turn 34 next month.
To the surprise of some, Orlovsky has found work in 2017 while quarterbacks Colin Kaepernick and Robert Griffin III remain unemployed. Orlovsky has also signed ahead of fellow ex-Lions QB Shaun Hill.
Photo courtesy of USA Today Sports Images.