The Raiders are planning to spend the 2017 and 2018 campaigns is Oakland before officially relocating to Las Vegas, but the club may have another option up its sleeve. Depending on how the 2017 season plays out, San Antonio could be used as a potential temporary location for the Raiders, according to Vincent Bonsignore of the Los Angeles Daily News (Twitter link).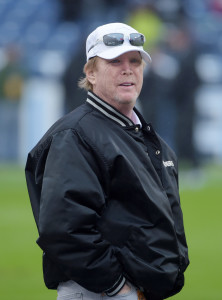 San Antonio has been mentioned as a possible landing spot for the Raiders since 2014, and while the club won't be moving there permanently, the city could still act as something of a pit stop while the Raiders get their affairs in order. Unlike the Rams or Chargers, who voted to move to Los Angeles and did so before playing more games in St. Louis or San Diego, respectively, the Raiders plan to stay in Oakland two more years.
That decision will undoubtedly have repercussions, with chief among them being the response of Raiders fans in Oakland. It's unclear exactly how fans of the team will respond to watching the Raiders over the next two seasons knowing full well the club's Oakland lifespan is limited, but it's likely going to be positive. Moving to San Antonio would lessen the burden on the organization in the short term.
A temporary stay in San Antonio wouldn't come without its complications, however. Both the Texans and Cowboys might chafe at the notion of adding a third club in the state of Texas. Jerry Jones, specifically, was a driving force behind the Raiders' relocation to Las Vegas, so Raiders owner Mark Davis may not want to anger Jones by planning a move to Jones' home turf.
Photo courtesy of USA Today Sports Images.