Cardinals running back David Johnson has reported to training camp, the team announced on Monday morning. It's a big development for Arizona after Johnson opted to skip the team's mandatory minicamp in June.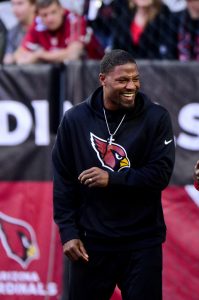 [RELATED – Extension Candidate: David Johnson]
Johnson scheduled to earn a base salary of $1.8MM in the final year of his deal. After losing the 2017 season to injury, Johnson is understandably concerned about his financial security. If Johnson were to suffer another serious injury this year, he would be left without a safety net and a fairly low floor in free agency, despite all of his past accomplishments.
By skipping minicamp, Johnson was fined more than $84K. Missing training camp would have resulted in even more substantial fines, and that's not something Johnson wanted to mess with. Over the first three years of his career, Johnson has earned $2.3MM in salary. That's not chump change, but the fines would have hurt him more than other players who are pushing for new deals.
Johnson was arguably the league's best offensive player in 2016 as he racked up more than 2,100 yards from scrimmage and scored 20 touchdowns. He remains one of the NFL's premier talents at running back, despite missing the majority of the 2017 campaign with a dislocated wrist.
The Cardinals would like to lock Johnson up, but his lost 2017 season likely complicates negotiations. The Cardinals can also afford to exercise patience thanks to the franchise tag, which would pay Johnson $11.9MM in 2019.
Photo courtesy of USA Today Sports Images.