In the wake of his second straight impressive showing, Joe Flacco is in line to remain in the No. 1 quarterback role moving forward. Browns head coach Kevin Stefanski announced after today's contest that Flacco will be the team's starter for the remainder of the season.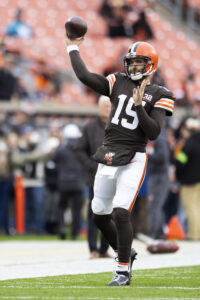 Deshaun Watson was in line to serve as Cleveland's full-time starter, and he began to show promise for the first time since his arrival with the team (via a massive trade haul and a fully guaranteed, $230MM contract) midway through the season. Lingering shoulder issues ultimately led to Watson being shut down after undergoing season-ending surgery last month, however, leaving a vacancy for the Browns to fill.
Fifth-round rookie Dorian Thompson-Robinson was in line to move up to the starter's role in place of Watson. The former impressed during training camp and the preseason, and he saw one start early in the season (in place of P.J. Walker). Thompson-Robinson did not play well in that contest, though he did get the nod for consecutive starts in November: a win over the Steelers followed by a loss to the Broncos.
The UCLA product missed Week 13 due to a concussion, which paved the way for Flacco to see his first start not long after having signed with the Browns. The former Super Bowl MVP had an encouraging start to that game, a loss to the Rams. Flacco's overall numbers (23-of-44 for 254 yards, two touchdowns, one interception) left plenty to be desired, but he delivered a stronger performance on Sunday.
Flacco posted 311 yards, three touchdowns and one interception while going 26-for-45 in a win over the Jaguars in Week 14. As a result of his strong play, it comes as no surprise that Stefanski and Co. have elected to keep the 38-year-old atop the depth chart as the team's playoff push continues. Cleveland has now won a game with four different QBs this year, a fact made even more impressive considering the season-ending knee injury star running back Nick Chubb suffered early in the campaign. Flacco had been a gameday practice squad elevation, but today's news confirms he will be signed to the active roster in the near future.
After seeing his Jets tenure come to an end this offseason, Flacco expressed an interest in continuing his career despite his age and a 1-8 record as a starter in New York. The longtime Ravens starter has managed to impress this year, though, and he now has the opportunity to lead his new team to a postseason position. Sitting at 8-5, the Browns are part of a logjam in the AFC's wild-card picture, but continued strong play from under center could not only boost Flacco's free agent prospects but also Cleveland's chances of making an unexpected playoff appearance.