Although the Chiefs' Super Bowl IV team and multiple other squads from that period housed a whopping six Hall of Fame defenders, it is safe to say the Andy Reid–Patrick Mahomes stretch represents the franchise's peak. The Chiefs, who entered the 2017 season having never won back-to-back AFC West titles, enter 2022 with six straight division crowns. During the Mahomes leg of this reign, the Chiefs have not encountered much divisional resistance. They have become the only team to host four consecutive conference championship games.
But the rest of the division spent the offseason loading up to challenge the Chiefs, whose 2022 edition will look a bit different. Reid and GM Brett Veach moved two cornerstone players — Tyreek Hill and Tyrann Mathieu — off the roster, trading Hill and letting Mathieu walk in free agency. Kansas City was busy at both positions this offseason. How much will these retooling efforts and rivals' big-ticket moves — one of which having a direct impact on the Chiefs' plans — impact the perennial Super Bowl contenders' 2022 season?
Trades:
The Chiefs had begun Hill extension talks in the weeks leading up to free agency. One year remained on the field-tilting speedster's contract. But the Raiders soon acquired Davante Adams from the Packers, changing the equation not just for Hill but for the entire wide receiver market. The Chiefs balked at Hill's new demands, which increased after Adams agreed to a then-receiver-record $28MM-per-year deal. Kansas City quickly pivoted to the trade market, leading to Jets and Dolphins offers. After a Jets proposal — one that did not feature any first-round picks but included two second-rounders — nearly sent Hill to New York, the Dolphins came in with a trade including the No. 29 overall pick and an extension (four years, $120MM) that topped Adams' accord.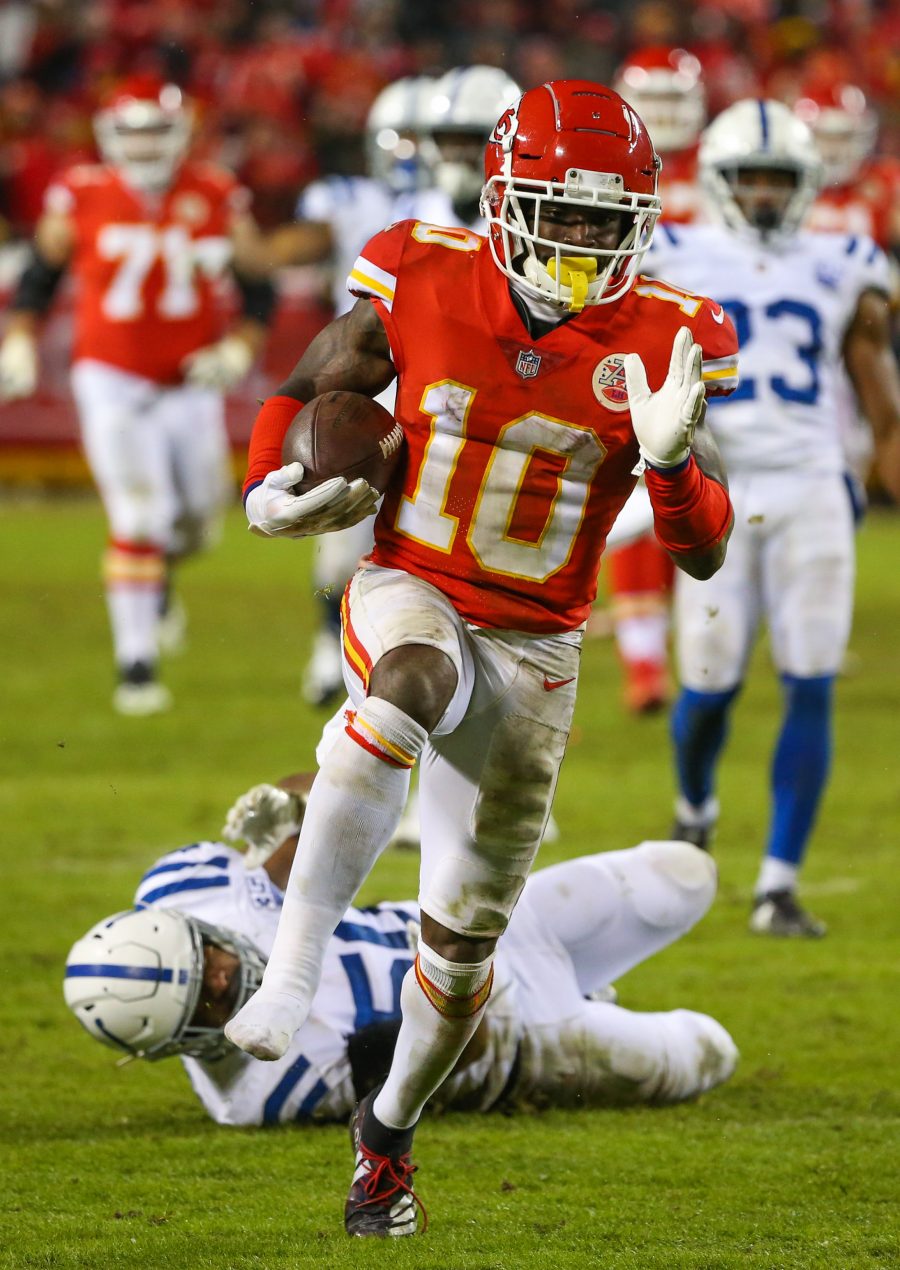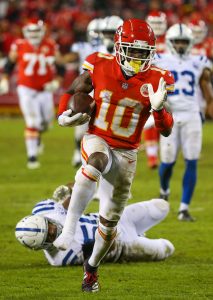 Of the offseason's marquee wideout trades, Hill fetched his former team the most in terms of compensation. At 28, Hill is more than a year younger than Adams and possesses a skillset pairing historically elite speed with legit receiving chops — something most players in Hill's speed realm have lacked throughout NFL annals. Hill will now entrust his Hall of Fame push to Tua Tagovailoa, while the Chiefs will be tasked with an interesting restart at the position.
It remains fascinating a Chiefs rival changed the AFC West kingpins' path with one of their best players. Hill said he did not ask the Chiefs for an extension that topped Adams' AAV but did ask the team for a deal in the $25-$26MM-AAV range. A vital piece during Alex Smith's final Chiefs season and to start Mahomes' rapid ascent, Hill became an All-Pro on a Day 3 contract. The 2019 child-abuse scandal, which came years after a domestic violence arrest eventually dropped Hill to the 2016 fifth round, nearly led to a Chiefs divorce. But after no NFL suspension emerged, the team welcomed its deep threat back and gave him an $18MM-per-year deal — on a team-friendly structure as a result of his second off-field controversy. Hill outplayed that deal, stringing together three more Pro Bowl seasons. But the Chiefs joined the Packers and Titans in letting another team pay their top wide receiver at the new WR1 going rate.
This separation could be a seminal moment on the Chiefs' timeline, considering the attention defenses paid to Hill. Teams increasingly moved to prevent Mahomes-to-Hill deep strikes last season, something that the receiver later confirmed caused internal frustration. This trade represents the biggest offensive change of the Mahomes era and presents some risk, given the Chiefs' momentum and non-Hill issues at the position since Reid arrived.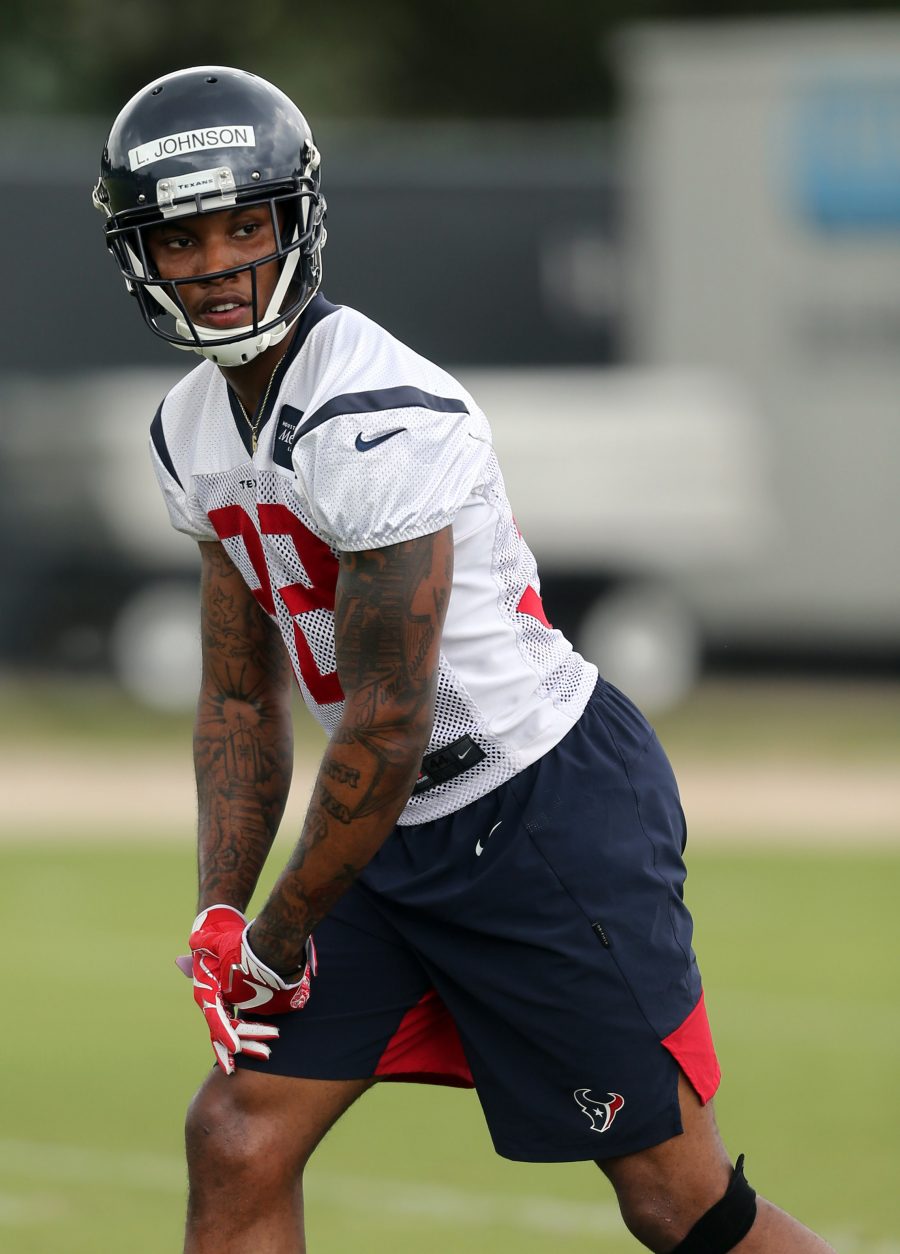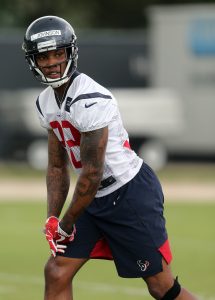 Reid's other receiver investments in Kansas City have largely not worked out. The 2013 Dwayne Bowe extension backfired, as the previous Chiefs WR1's skills deteriorated quickly, and the Chiefs cut bait on Jeremy Maclin after two seasons. Sammy Watkins came up big in spots, but frequent injuries suffered in Kansas City have led to the former top-five pick's value freefall. Drafted in the second round while Hill was barred from the team's facility, Mecole Hardman has not panned out. Though, the fourth-year wideout may have a more prominent role as the team attempts an interesting post-Hill wideout configuration.
The Johnson flier resembles those the Chiefs took on former first-round cornerbacks Mike Hughes and Deandre Baker. A 2019 second-rounder, Johnson has one year remaining on his rookie contract. He is coming off a career-best three interceptions in 2021, but the young DB — whom the Texans used at corner and safety — fell out of favor in Houston. Pro Football Focus viewed Johnson as one of the NFL's worst defensive backs during his Texans tenure. The advanced metrics website graded Johnson as the league's worst primary cornerback in 2019 and slotted him as (by far) the league's worst safety contributor last season, helping explain the 2024 seventh-round return.
Notable signings:
As Tyrann Mathieu lingered in free agency, the Chiefs quickly signaled they were not bringing him back for a fourth season by committing to Reid during the legal tampering period. Mathieu had also made a Houston-to-Kansas City trek, though Reid played his entire rookie contract with the Texans. Pro Football Focus barely rated Reid above Johnson last year, grading the former as the sixth-worst full-time safety. PFF offered much better assessments for the former third-round pick during his first two seasons, when the Texans booked playoff spots.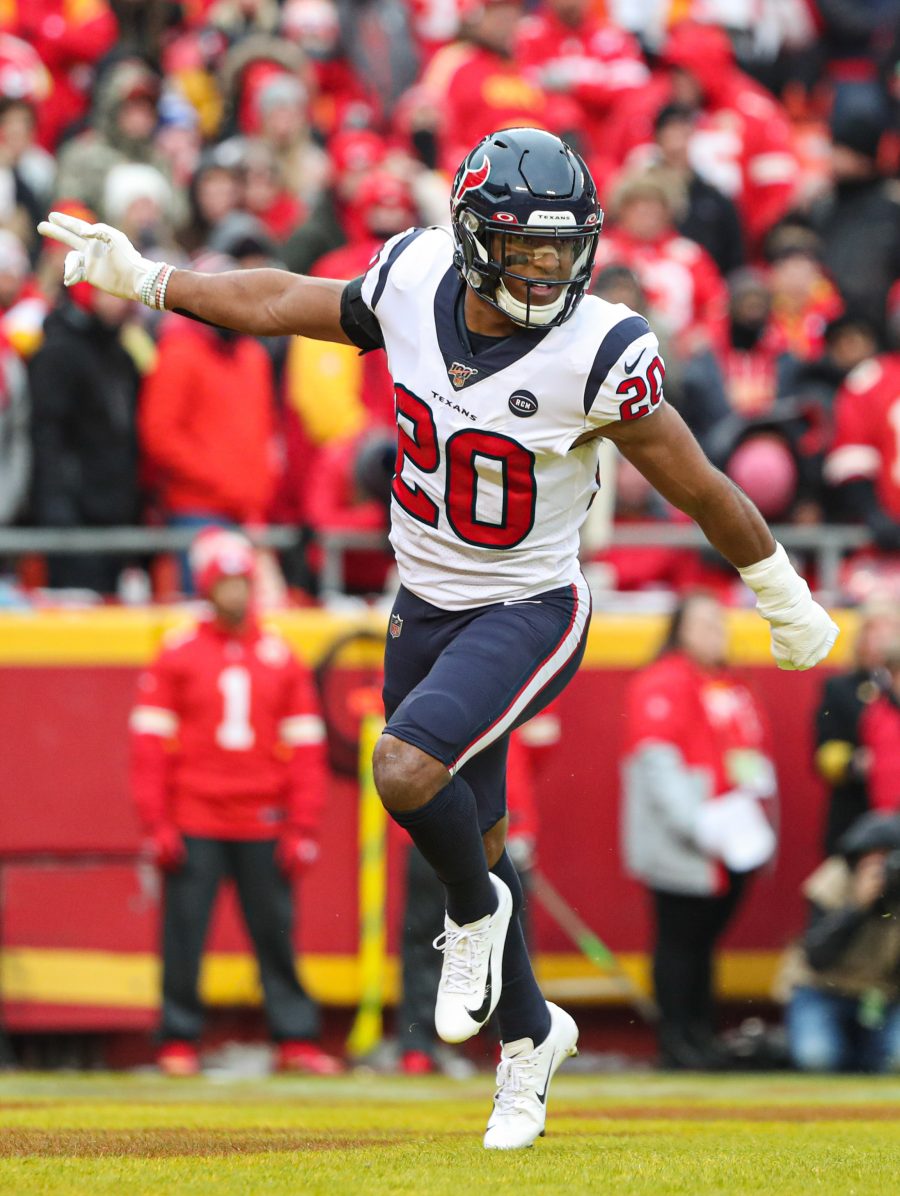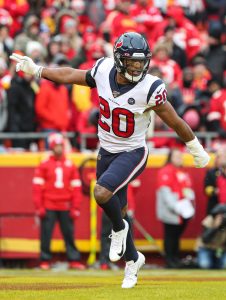 While the Chiefs are saving money here compared to Mathieu's $14MM-per-year deal, the proven veteran is only tied to a $9MM-AAV contract with the Saints. Reid, however, is five years younger, at 25. DC Steve Spagnuolo will bet on the player with more prime years remaining.
Following the Reid accord, the Chiefs began work on their receiving corps. For a short stretch, it looked like Smith-Schuster would complement Hill. The wideouts overlapped as Chiefs teammates for over a week, and considering the Raiders extension's effect on the AFC West champs, it can be assumed Kansas City at least envisioned a reality in which ex-Pittsburgh slot talent played alongside Hill and Travis Kelce. Smith-Schuster now stands to play a more important role for the Chiefs, but they have eyed the former Pro Bowler for a bit now.
The Chiefs finished second in the Smith-Schuster sweepstakes last year; the USC product prioritized familiarity with the Steelers to better position him for the 2022 market. That decision backfired. Ben Roethlisberger continued to decline, but Smith-Schuster was not there to see much of that deterioration manifest due to the Week 5 shoulder injury he suffered. Still, Andy Reid attempting to lure him last year and coming back to the table in 2022 — despite JuJu's five-game season — is notable. The Chiefs have not had a consistent slot weapon during Mahomes' time, though Hill would align there at points. Still just 25, Smith-Schuster has not been able to replicate the 2018 dominance he displayed alongside Antonio Brown, failing to come within 500 yards of that 1,431-yard year. But being paired with one of the game's best quarterbacks and arguably its premier play-caller could reignite him.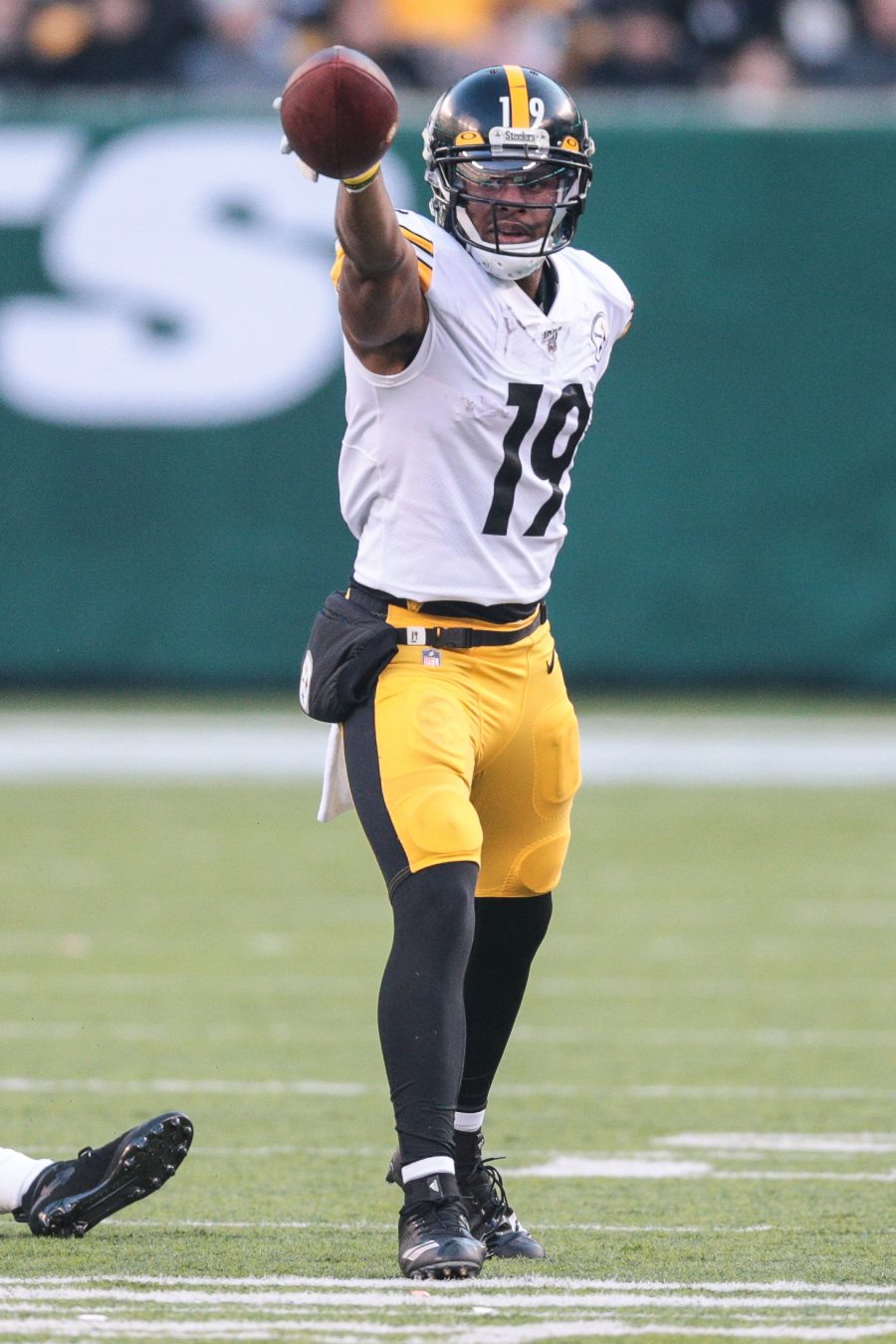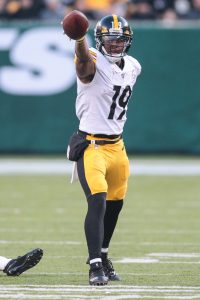 Shortly after the Hill trade, the Chiefs poached the Packers' top vertical threat. Valdes-Scantling has not caught more than 38 passes in a season, but the 2018 fifth-round pick's deep capabilities produced a market. The Packers bowed out but were interested in keeping him. MVS led the NFL with a 20.9 yards-per-catch number in 2020, when he caught six touchdown passes. Like Hill, Valdes-Scantling has dealt with drop issues. He finished sixth in drop rate in 2020 but largely curbed that problem last season. Despite coming into the league three years after Hill, MVS, 28, is only a few months younger.
This contract doubles as a prove-it deal, with the Chiefs not guaranteeing anything into Year 2. Only Valdes-Scantling's prorated signing bonus would count as dead money if the Chiefs moved on in 2023; they would be tagged with $4MM if they did so. For 2022, however, Valdes-Scantling will be a discounted deep target — albeit one with a larger catch radius than Hill, due to a 6-foot-4 frame. MVS joins Hardman and Skyy Moore as field-stretchers for the Chiefs, who will trot out a near-fully reshuffled receiving corps.
Wylie and Christian may be battling for the team's right tackle gig, a position that has seen inconsistency since Mitchell Schwartz's ironman streak ended during the 2020 campaign. The Chiefs have locked-in starters at each of the other four O-line spots. PFF rated each of the Chiefs' three right-edge options, a list that also includes 2020 third-rounder Lucas Niang, between 60th and 70th at tackle last season. Christian started eight games for the Texans in 2021. Niang might not factor prominently in the upcoming training camp competition. The 2020 COVID-19 opt-out suffered a torn patellar tendon in Week 17 of last season. Its right tackle situation is far from ideal, but Kansas City does have one of the league's most enviable O-line situations on the whole.