The Rams moved fast with Van Jefferson. Shortly after sending out a last call of sorts Tuesday, the Rams are moving on from one of their ancillary pass catchers.
The Falcons have agreed to acquire Jefferson, according to NFL.com's Ian Rapoport, who notes the teams will swap 2025 seventh-round picks. Following Brandin Cooks, Robert Woods and Allen Robinson out of Los Angeles via trade, Jefferson's price tag is more in line with those the Rams collected for Robinson and Woods.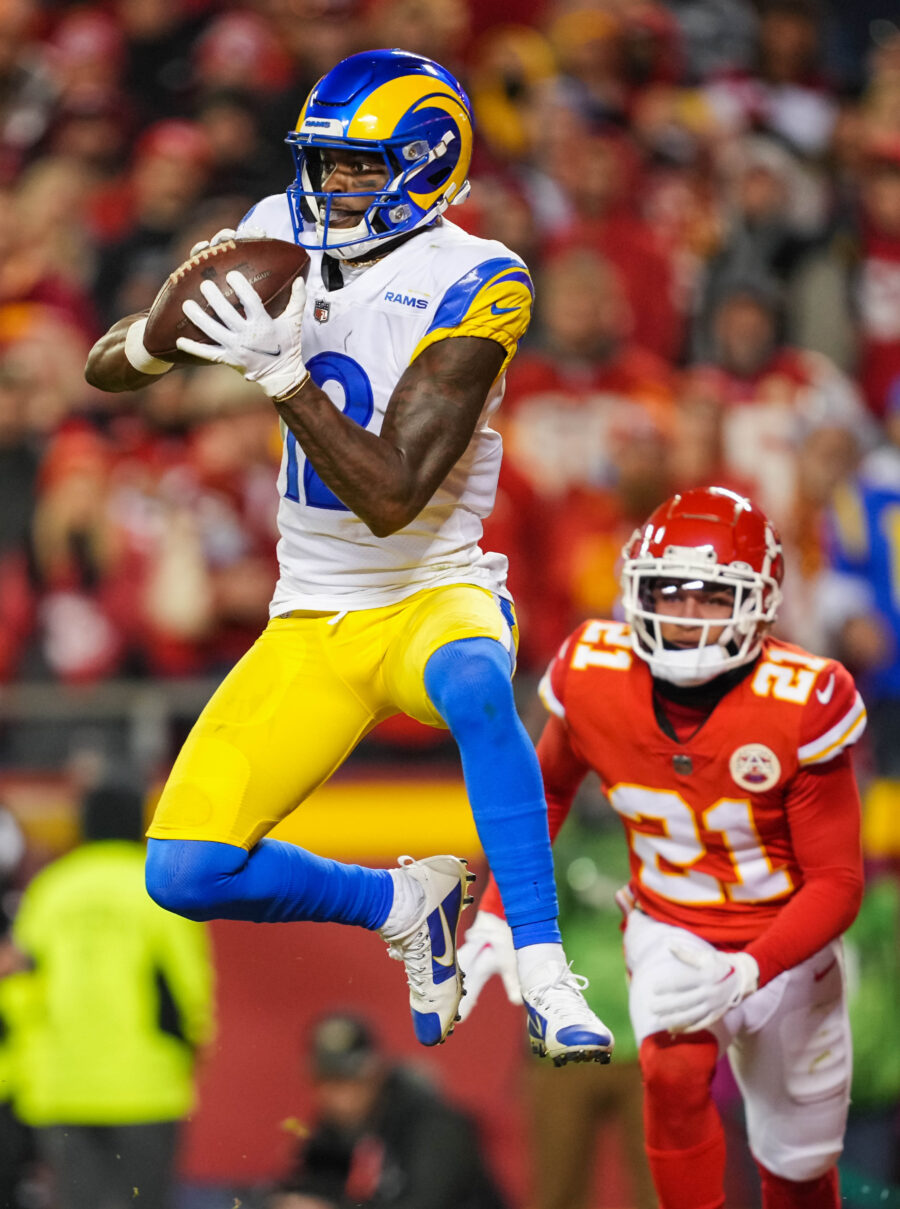 Atlanta will send the Rams a 2025 sixth-rounder in exchange for Jefferson and a seventh, per Rapoport. While Jefferson has seen Puka Nacua and Tutu Atwell change his role with the Rams, he has still started four games this season. The Falcons will bet on him in a contract year. Jefferson has an 800-plus-yard season on his resume, getting there for the Super Bowl-winning Rams iteration two years ago.
Jefferson's availability came up shortly before this trade commenced, and although the Rams found a quick taker, it is clear not much of a market formed for the fourth-year receiver. The son of former NFL wideout and current Panthers receivers coach Shawn Jefferson, Van has produced for a Super Bowl champion. But his work since has not moved the needle too far. The Falcons will still take what amounts to a flier on a former second-round pick. Shawn Jefferson played for the Falcons during Michael Vick's early years, suiting up for the team from 2000-02.
A knee injury stalled Jefferson last season, and Nacua and Atwell's promise affected his standing this year. In 2021, however, Jefferson delivered for a Rams team that suddenly needed him. The Rams won the Odell Beckham Jr. sweepstakes in November 2021. Days after forming a Beckham-Woods-Cooper Kupp trio, however, Woods' ACL tear kept Jefferson as a regular. The Florida alum delivered, finishing out a 50-catch, 802-yard, six-touchdown season. He added nine receptions for 102 yards in Los Angeles' four postseason games.
While a knee injury cost Jefferson six games last season, he has not been an injury-prone player. Those six absences are the only games Jefferson has missed as a pro. After coming back from knee surgery midway through last season, Jefferson kept his yards-per-catch average north of 15 by hauling in 24 passes for 369 yards and three scores. One of those came to close out a shocking Rams comeback win over the Raiders, as that game came on Baker Mayfield's third day with the team.
This season, however, Jefferson has only eight receptions for 108 yards and no TDs — for a Rams team that has seen Nacua deliver a historic start. Nacua's 46 catches lead the league, and he has totaled 572 yards — an NFL record for a player's first five games. After Atwell did not catch a pass as a rookie and amassed 298 yards throughout an inconsistent second season, the diminutive Louisville alum is at 279 through five games this year. With Kupp back, the Rams booted Jefferson from their starting lineup in Week 5.
Jefferson will head to a Falcons team rostering Drake London atop its receiving corps. Behind London, however, the team is low on surefire options. Only one other Atlanta wideout — Mack Hollins — has surpassed 50 receiving yards this year. Hollins is at 143 through five games. The Falcons do not have a reliable passing attack just yet, with Desmond Ridder offering an inconsistent start to his run as a full-fledged starter. But the second-year passer posted his best game as a pro in Week 5, totaling 329 yards in a narrow win over the Texans.
The Falcons signed KhaDarel Hodge and Scotty Miller this offseason; neither have been factors for the team just yet. Jefferson presents a better option, with his 2021 season the best a current Falcons London sidekick has offered as a pro. The Falcons are now responsible for the remainder of Jefferson's rookie salary; they will owe the former No. 50 overall pick just more than $800K for the season's remainder.
The Rams received a 2024 second-round pick for Woods, whom they sent to the Titans in May 2022. The player the Rams signed to replace Woods — Robinson — ended up being costly to move, with the team paying much of his 2023 salary to secure a seventh-round pick swap with the Steelers in March. This Falcons-Rams exchange matches the compensation the Bears and Dolphins agreed to in last week's Chase Claypool trade.
Follow @PFRumors