The second of Pierre Garcon's two 49ers seasons will end with the veteran wide receiver on injured reserve. The 49ers will place Garcon on IR this week, Kyle Shanahan said (via the Sacramento Bee's Matt Barrows, on Twitter).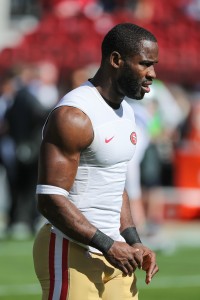 A knee injury has sidelined Garcon for the past four games. He will end a second straight 49ers slate having played in just eight contests.
Garcon will undergo arthroscopic surgery on the injured knee this week. This spate of injury trouble is new for the 11-year veteran, whose Redskins tenure concluded with 71 straight regular-season starts.
The former Colts and Redskins wideout generated trade interest before the deadline, but the 49ers opted not to move their then-healthy wideout. The 32-year-old pass-catcher will conclude his season with 24 receptions for 286 yards and one touchdown — his only score as a 49er thus far. Garcon posted a 40-500-0 season in 2017, doing so with Brian Hoyer and C.J. Beathard as San Francisco's QBs.
A coveted free agent in 2017, Garcon chose the 49ers' five-year, $47.5MM offer. He received $17MM fully guaranteed and would not provide the 49ers much in cap savings if they opted to move on after 2018. It would cost the 49ers $7.2MM in dead money if they cut Garcon after this season. Though, the 49ers are projected to hold more than $66MM in cap space and could absorb that cap hit if they wanted to go in another direction.
Photo courtesy of USA Today Sports Images.