Mekhi Becton is making a full-fledged push to convince the Jets to move him back to the left tackle position at which he excelled during his 2020 rookie season. Much has changed since that slate, and Becton has barely seen the field.
After an injury to Becton's right knee cost him 16 games in 2021, he injured the same knee during training camp and missed all of last season. Between those injuries, the Jets moved him to right tackle. At the time, the Jets were preparing to play George Fant — who slid from right to left tackle after Becton's September 2021 injury — on the blind side. But Becton's injury led to Duane Brown signing and taking over at LT. Brown remains under contract, but Becton — his string of absences notwithstanding — intends to unseat the 16th-year veteran.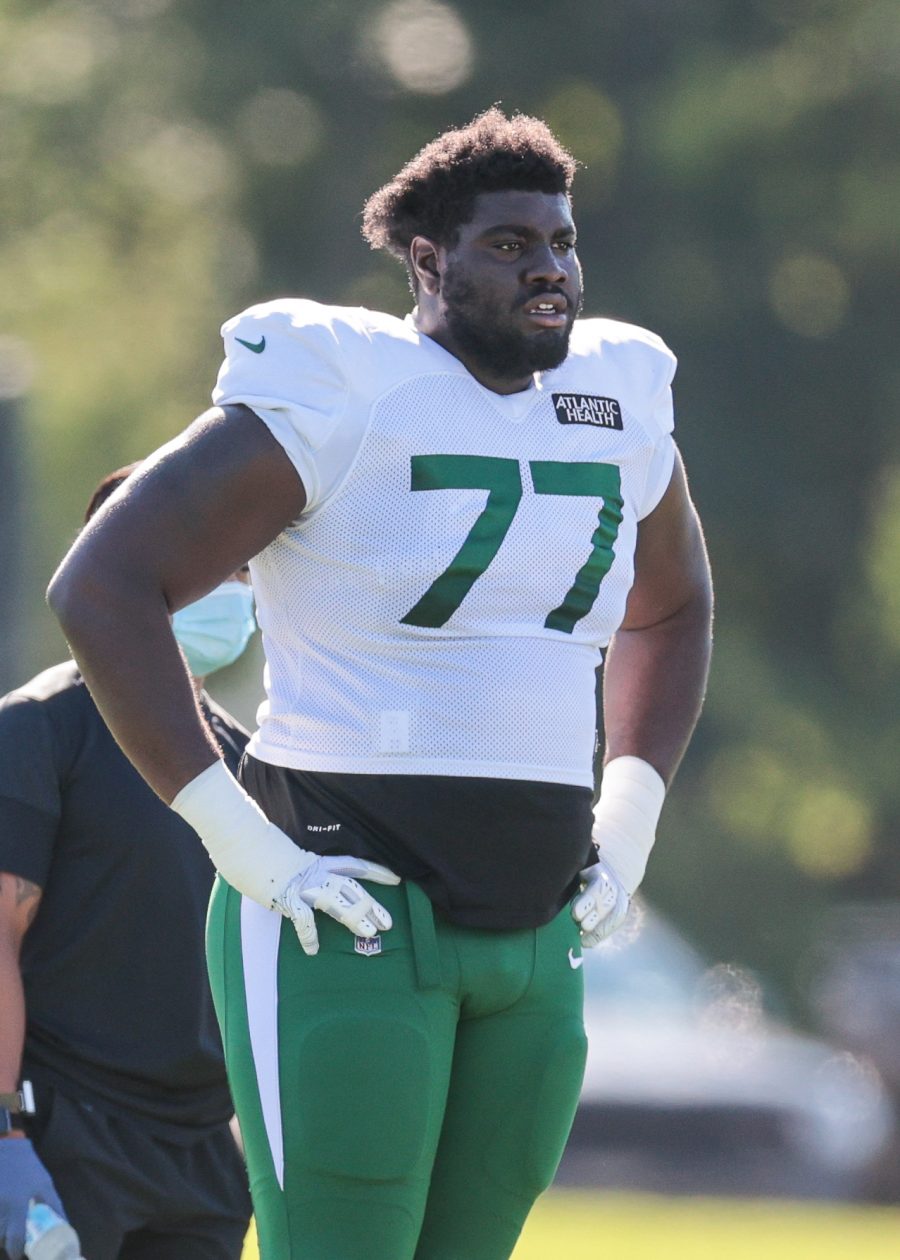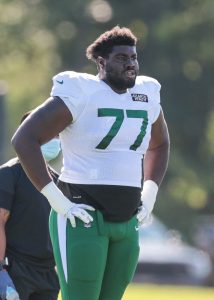 A recent (since-deleted) tweet made Becton's intent clear. He doubled down on that pursuit in an interview with Newsday's Bob Glauber, indicating he attempted to convince the Jets to keep him at left tackle last summer. The team officially moved Becton to right tackle at the start of training camp.
"It made no sense to put me at right tackle," Becton said, via Glauber. "I hurt my right knee. That's going to be the knee that I put the most pressure on [while backpedaling in pass protection]. I explained it [to the coaches], but no one cared.
"I got forced to play a position I don't play, and then I was pretty much telling them I wasn't feeling good the whole time throughout camp, and I was told I shouldn't be complaining. 'Go out there and do it.' I was limping throughout the whole practice, and I just took a step and my knee buckled and I got hurt again and had to get reconstructive surgery."
Becton went down barely a week into training camp but remains in the picture to start for the Jets. The team is widely believed to have targeted Georgia's most recent left tackle, Broderick Jones, at No. 15. The Aaron Rodgers trade included a 2022 first-round pick swap, knocking the Jets down two spots. That turned out to make a difference, with the Patriots trading No. 14 to the Steelers, who took Jones. The Jets selected defensive end Will McDonald at 15.
The team has since signed Billy Turner, whom Nathaniel Hackett hoped to use as the Broncos' regular right tackle last year. Injuries intervened, limiting Turner to eight games in 2022. But Turner brings four years' worth of experience in Hackett's offense. Turner's form could affect Becton's right tackle status and potentially Brown's role. Brown is coming off offseason shoulder surgery, and although he intends to play a 16th season, no guaranteed money remains on the former Texans and Seahawks Pro Bowler's two-year deal.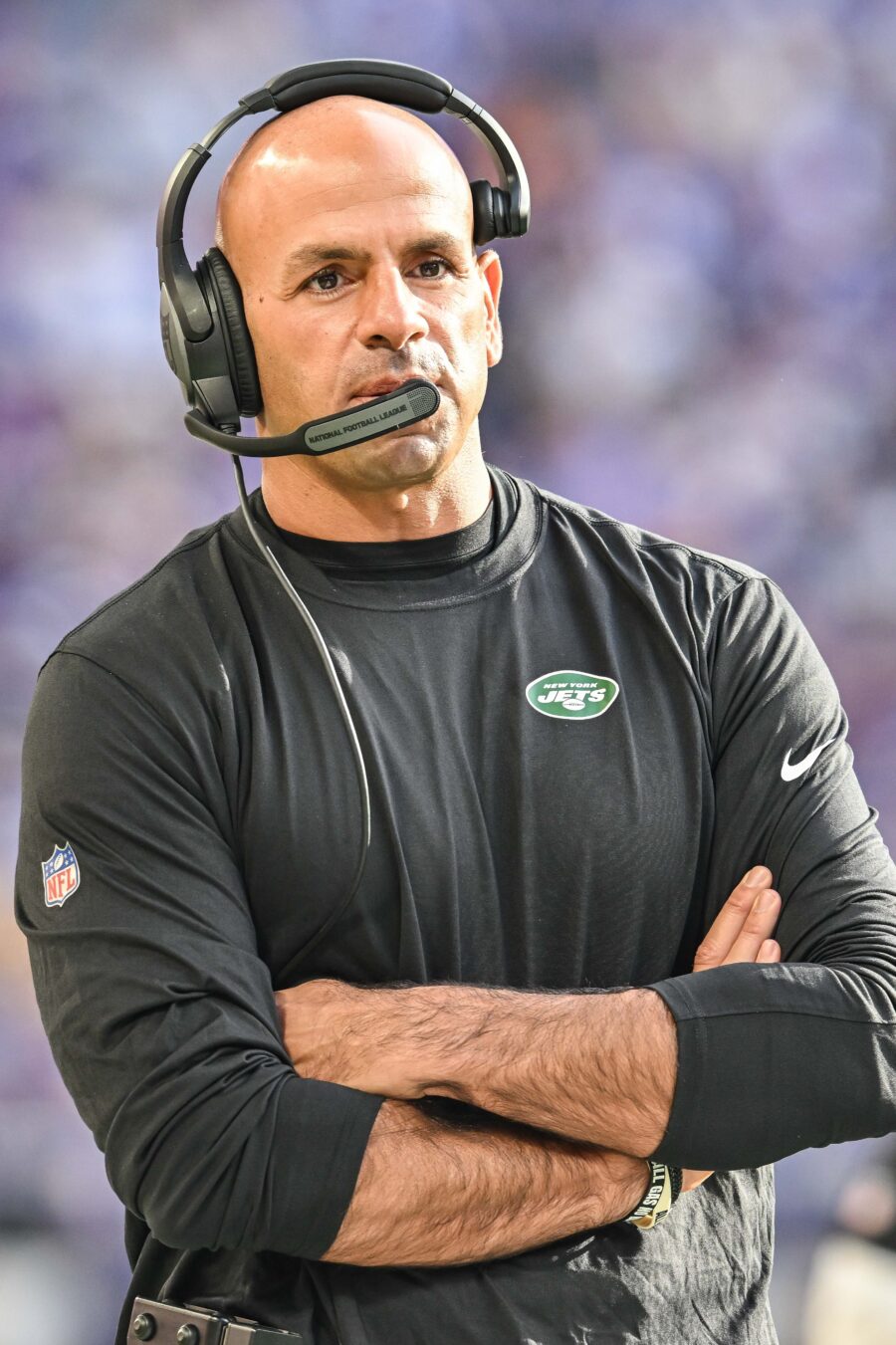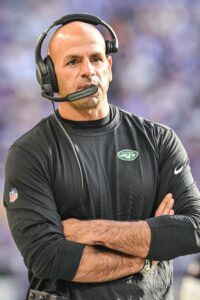 When asked about Becton's tweet, Robert Saleh said, "Go earn the left tackle [job]." Addressing Becton's latest round of comments on the situation Tuesday, Saleh did not fire back at the contract-year blocker.
"Whatever happened in the past, happened in the past," Saleh said, via the New York Post's Brian Costello. "It's not about finger pointing. It's about moving forward. If he keeps approaching this offseason the way he has and he keeps attacking it the way he has, excited to see what he does with this fourth year."
Saleh said Tuesday that Becton's time at right tackle may not be over, though the third-year Jets HC noted the 6-foot-7 lineman will be competing for both jobs. Becton, whose fifth-year option was recently declined, remains resolute in his hope of returning to the blindside post. After going into New York's 2022 training camp as a right tackle, Becton expects to finish this one at his old position.
"They've been putting me on the depth chart as their third-string tackle because I've got to earn it, but I know within a week, I'm going to be starting on that left side," Becton said, via Glauber.
Noting his relationship with the Jets' coaching staff is "OK," Becton continues to train and shed weight. He weighed 394 pounds in February, per Glauber, but was amazingly down to 342 by early May. Last offseason, Glauber notes Becton was nearly 400 pounds. Weight issues have contributed to Becton's unavailability, but the Louisville alum will attempt to play at a much lighter weight compared to his last healthy season. Becton came into the NFL at around 370.
With Brown ahead of what would be his age-38 season, Becton can certainly earn himself a lot of money with a bounce-back year. The Jets missing on Jones leaves them without a left tackle of the future. Both the Jets' tackle positions will be much higher-profile jobs compared to last year, when the team trudged into another season with Zach Wilson as its planned starter. With Rodgers in the fold and six nationally televised games scheduled, the Jets will be under the microscope. Before the games begin, it will now be more interesting to see how the Jets proceed with Becton in training camp.