Traded in each of the past two offseasons, Carson Wentz has now been in free agency for almost three months. The former Eagles, Colts and Commanders quarterback will likely land another opportunity, and he is preparing for that path.
Wentz is training in Los Angeles, per Jeremy Fowler of ESPN.com, who adds the seven-year veteran is generating interest (Twitter link). A starter for most of his career, Wentz is open to continuing his career as a backup. It would seem, barring an injury shaking up a team's depth chart, that is his only option at this point.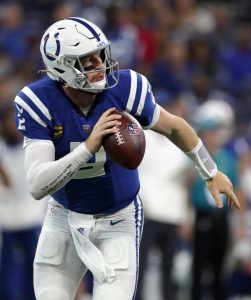 It seems Wentz might try to wait out a potential injury, with Fowler adding the former No. 2 overall pick may well wait longer into the offseason before committing. Wentz, 30, is more accomplished than just about every backup quarterback on a roster. But three teams have jettisoned him over the past three years. One of the few franchises Wentz could conceivably serve as a starter upgrade — the Commanders — just cut him, moving on from the Eagles-constructed extension the one-time MVP candidate had played on since 2019.
The Commanders have continued to praise 2022 fifth-round pick Sam Howell, and they signed Jacoby Brissett as competition. One of the many other teams that passed on pursuing a franchise-tagged Lamar Jackson, the Falcons signed ex-Wentz teammate Taylor Heinicke to be Desmond Ridder's backup. While neither of these situations check off long-term boxes at the sport's marquee position, Wentz does not appear a candidate to be a starter again for a bit. A summer injury — something Jimmy Garoppolo unsuccessfully waited for during his time on the trade block last year — would likely need to happen in order for that avenue to open up.
The Raiders make sense as a potential Wentz suitor, given Garoppolo's health history. The Silver and Black signed ex-Josh McDaniels charge Brian Hoyer, who is going into his age-38 season, and used a fifth-round pick on Purdue's Aidan O'Connell. Should Garoppolo suffer another injury, the Raiders would be a logical spot for Wentz or Teddy Bridgewater. Unless the team plans on stashing O'Connell on its practice squad as a QB4, however, Garoppolo remaining healthy does not leave much room for either unemployed veteran.
Arizona is not expected to have Kyler Murray available to start the season. Colt McCoy's health, after a concussion ended his season, would determine whether the Cardinals — who drafted Houston's Clayton Tune in Round 5 — pivot toward adding one of the few bridge-type options left available. Cards HC Jonathan Gannon was in his first weeks on the Eagles' DC job when the NFC East team traded Wentz in 2021. Only fifth-round rookie Sean Clifford resides behind Jordan Love in Green Bay, while Wentz's North Dakota State successor — Easton Stick (one career pass attempt) — is Justin Herbert's top Chargers backup. Chase Daniel is no longer with the Bolts.
After Wentz started 17 Colts games in 2021, Jim Irsay instructed his front office to unload the quarterback. While that ended up causing more problems for the Colts, Wentz could not stick as the Commanders' starter last year. Heinicke kept the starting job despite Wentz recovering from his finger injury, and while Ron Rivera reinserted his initial 2022 starter late in the season, Howell finished out the campaign. Now, the well-traveled veteran awaits a move to a fourth NFL employer.