Case Keenum inked a two-year, $36MM deal with the Broncos just this past offseason, but he's already been made redundant in Denver after general manager John Elway & Co. sent a fourth-round pick to the Ravens in exchange for quarterback Joe Flacco. Denver will now attempt to trade Keenum, but if the club can't find a willing partner, it will either ask Keenum to accept a hefty pay cut or release him outright.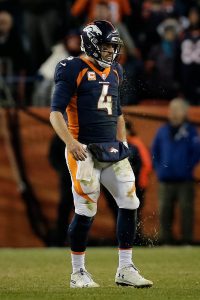 The Broncos will likely struggle to find a rival team willing to trade for Keenum, not only because of his lackluster 2018 campaign, but because of his contract. Keenum is due an $18MM base salary in 2019, and $7MM of that total is fully guaranteed. It seems incredibly unlikely that another club would be willing to lock itself into those figures, so unless Denver first restructures Keenum's contact (potentially by converting some of his base salary guarantees into a bonus that the Broncos would pay), he's likely to hit the free agent market.
If he does end up leaving the Broncos, would Keenum offer appeal as a starter? He's only one season removed from leading the Vikings to the NFC Championship Game during a 2017 season in which he ranked second in Total QBR, seventh in adjusted net yards per attempt (the passing metric most correlated with winning), fifth in interception percentage, and seventh in sack percentage.
But Keenum's 2018 ranks in those same statistics tell a different story. Among 33 qualifying quarterbacks, Keenum finished 30th in Total QBR, 28th in ANY/A, 21st in interception percentage, and 11th in sack percentage. A year after ranking first in Football Outsiders' DVOA (meaning he was extremely effective on a per-play basis), Keenum fell all the way to 29th in 2018.
So, do you think Keenum will open the season as a starter next season? Vote below (link for app users), and then keep reading — and voting — as we examine a few potential destinations for the 30-year-old signal-caller:
For the sake of argument, let's assume that Keenum will be a starting quarterback in 2019 — nearly every club would be interested in signing Keeum as a backup passer, so let's only look at landing spots where Keenum could become a starter. Where are his most likely havens?
Jacksonville Jaguars: Although the Jaguars have Blake Bortles under contract for the next two seasons and will incur a massive dead money hit if they release him, it's almost unfathomable to imagine Jacksonville entering the 2019 campaign with Bortles still on its roster (let alone as the team's starting quarterback). Nick Foles could be the Jags' preferred choice under center, especially now that they've hired former Eagles QBs coach John DeFilippo as offensive coordinator, but Keenum would present a cheaper option.
Miami Dolphins: Miami isn't expected to retain Ryan Tannehill, and — like Denver with Keenum — will explore a trade of Tannehill before cutting him. Under new head coach Brian Flores, the Dolphins aren't expecting to be competitive any time soon, and are loosely embracing a "tanking" strategy, at least in 2019. Still, Miami needs to put someone under center, and Keenum could offer the club competency at a reasonable rate.
New York Giants: Giants general manager Dave Gettleman earlier this year refused to commit to Eli Manning as his team's 2019 starter, so there's no guarantee the franchise icon will return next season. New York is expected to draft a signal-caller within the first two rounds of the upcoming draft, and Keenum could represent a reasonable solution as a bridge quarterback. And perhaps most notably, Keenum experienced his 2017 success under then-Vikings OC Pat Shurmur, who has since taken over the Giants' head coach.
Washington Redskins: If, as recent reports have indicated, Alex Smith is going to miss the entire 2019 season while recovering from a gruesome leg injury, Washington will need a new quarterback. The only problem? Smith will count for $20.4MM on the Redskins' salary cap next year, and there's no way for the club to reduce that figure save for a restructure that would only tie Smith to Washington's roster for a longer period. Therefore, Keenum might be enticing given that he is only likely to command a modest salary on a short-term contract.
What do you think? Does one of these destinations make sense? Or could an unlisted team have interest in Keenum? Vote below (link for app users), and your thoughts in the comment section:
Photo courtesy of USA Today Sports Images.