The Browns and Dez Bryant are meeting today, but each side has reservations about a potential union. Bryant ducked the Browns' phone calls for a while and only got in touch with the Browns after GM John Dorsey disclosed that to the public. The Browns, meanwhile, aren't completely sold on Bryant being a good fit for them.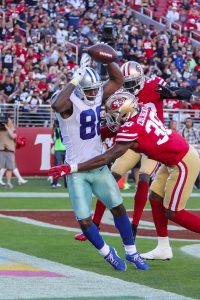 The Browns' internal conflict is understandable as Bryant's star has faded considerably in recent years. After averaging 91 catches for 1,312 yards and 14 touchdowns between 2012 and 2014, his averages plummeted to 50 catches for 678 yards and 6 TDs over the last three years. He also missed ten games due to injury between 2015 and 2016, and some say he wasn't giving 100% towards the end of his run in Dallas.
Will Bryant be motivated by his release from the Cowboys? It stands to reason that he will, but one can't help but wonder how Bryant would react to a sharp decrease in targets. Bryant would be in line for plenty of looks if Josh Gordon misses time, but the Browns are hopeful that the troubled star will be ready to go in Week 1. It's not hard to imagine a scenario in which Bryant is relegated to being the third wide receiver behind Landry and Gordon, and there's also a group of talented young receivers to consider, including rookie Antonio Callaway.
With reservations and interest on both sides, we want to know what you think. Should the Browns sign Bryant? Click below to cast your vote.
Photo courtesy of USA Today Sports Images.