Browns trade Carlos Hyde to the Jaguars. Cleveland had been saying for weeks that they wanted to get rookie running back Nick Chubb more touches, and they finally followed through on their promises by trading Hyde to Jacksonville. The Jaguars sent the Browns a fifth round pick in return, adding to Cleveland's arsenal of 2019 draft picks. Hyde signed a three-year $15MM deal with the Browns back in March, but lasted only six games with the team.
Cardinals fire Mike McCoy. Many fans and those in the media had been calling for McCoy's head for weeks now, and the Cardinals finally relented and fired their offensive coordinator. The team promoted quarterbacks coach Byron Leftwich to interim coordinator to replace him. McCoy was a hot name two springs ago after losing his job as head coach of the Chargers, and quickly signed on the be the offensive coordinator in Denver. The Broncos fired him mid-season, just like the Cardinals have now.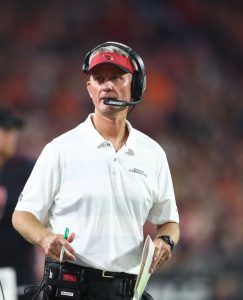 Seahawks likely to be sold. Seattle lost their owner this past week when Paul Allen died, and the team is reportedly unlikely to stay in his family. The Seahawks will likely be sold to a new owner, and there have even been rumors about a possible relocation. While that's still unlikely, it's impossible to tell what intentions a new owner might have. Any sale will likely take place after the season, and it will be one of the more notable stories to monitor this offseason.
Ted Ginn placed on Injured Reserve. The Saints were dealt a big blow when they were forced to place their number two wideout on IR. Ginn is dealing with a knee injury, and it seems quite possible that he misses the rest of the season, although the team reportedly views him as a return candidate. Last year, the speedster had a career-high 787 yards off of 53 catches, plus four touchdowns. In four games this year, Ginn had 12 grabs for 135 yards and two touchdowns.
Josh Allen has UCL damage. The Bills' quarterback situation got even worse when it was revealed that seventh overall pick Allen would miss multiple games with an elbow injury. Although it's not expected to require season ending surgery at this point, it's still a very significant injury. After Nathan Peterman bombed in relief of Allen, the Bills were forced to turn to recently signed veteran journeyman Derek Anderson to start. It's a tough blow for Allen and for the Bills as his development will be stunted and the team will have to roll with Anderson for the time being.
Photo courtesy of USA Today Sports Images.