Panthers owner plans to sell/cedes control of team. In a major twist after a series of workplace misconduct allegations made against Panthers owner Jerry Richardson, we learned last Sunday night that the 81-year-old would sell the franchise this coming offseason. Richardson announced his intentions in a letter posted to the team's website, but made no mention of the current allegations he faces. It still remains to be seen how the NFL's current investigation will impact the Panthers' only owner now that he plans on separating from the league. While prospective suitors like P Diddy have said they plan to put in a bid to buy the organization, the only thing we know so far is that the NFL made clear that they did not put pressure for there to be an ownership change and that the team will remain where it is. During this past week, we also learned that Richardson ceded control of the day-to-day operations to executive Tina Becker.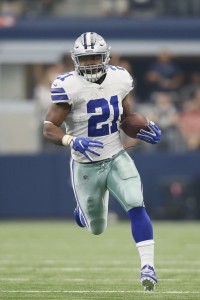 Zeke is back. After the Ezekiel Elliott sat out from Week 9 through Week 15, he returns to the gridiron just in time with Dallas' 2017 season on the line against the Seahawks on Sunday afternoon. The second-year pro bowl caliber back has had a crazy season because of the constant back and forth between him and the league regarding his six-game suspension. Though, his play never suffered as Elliott was still a dominant force on the ground, rushing for over 4.0 yards per carry and seven touchdowns this season. With Zeke back in the fold and the Cowboys on a three-game winning streak, it would seem that they would be a tough out in the playoffs should they sneak into that final NFC Wild Card spot.
Giants interview GM candidates. The Giants are in the process of determining who will be the next person to lead their football operations in the post-Jerry Reese era. The team reportedly interview two internal general manager candidates in Marc Ross and Kevin Abrams. Both of whom have been key parts of the current football structure during their tenure with the team. Ross currently acts as the team's Vice President of Player Evaluation. He's been with the franchise for over the past decade. On the other hand, Abrams has been more involved in working with the team's cap situation as the team's assistant general manager. The G-Men have also interviewed former Panthers executive David Gettleman, who helped form Carolina's 2015-16 NFC Championship team, and plan to interview current ESPN analyst Louis Riddick, who's already been a popular name thrown around in other general manager searches this past year.
Panthers LB suspended for a game. Panthers veteran linebacker Thomas Davis was originally suspended for two games by the league for his illegal hit on a defenseless receiver. While the 34-year-old has established himself as a notable team leader over his career, he's still had a reputation to be over aggressive on plays that are away from the football. Davis did eventually get his suspension reduced to just one game through an appeal, but this situation just further sheds another light on opposing players putting each other in unnecessary danger.
The Rams lose their Pro Bowl kicker. It's not usually a big story when a kicker goes on IR, but the Rams are going to feel a huge impact with Greg Zuerlein being forced to the sidelines for the playoffs. The placekicker injured his back in the Rams Week 15 contest vs. the Seahawks. Zuerlein had clearly separated himself as one of the league's best kickers this season, knocking through 38 of 40 kicks in 2017. Legatron is known for having a big leg and has continued to add to that reputation by converting six field goals over 50 yards this year. Los Angeles signed Sam Ficken to replace Zuerlein, although it looks like the team could continue its search once again after Ficken missed a field goal and extra point in today's win over the Titans. The team would likely choose to replace Ficken with one of the other nine kickers they worked out during this past practice week.
Photo courtesy of USA Today Sports Images.