DECEMBER 3: Casting further doubt on Stafford's 2022 return, the Rams announced on Saturday that their starter has been placed on IR. That will leave him sidelined until at least Week 17, by which point the defending champions will likely have been eliminated from postseason contention. With the open roster spot, the Rams have activated rookie linebacker Daniel Hardy from IR.
DECEMBER 2: Matthew Stafford is out of concussion protocol, but the Super Bowl-winning quarterback is not returning to the Rams' lineup just yet. After Sean McVay said earlier this week it was unlikely Stafford played in Week 13, the Rams are sticking to those guns.
Stafford will sit for a second straight week and third time in four games. Rather than Bryce Perkins, who started in Week 12 against the Chiefs, the Rams will go with John Wolford against the Seahawks. Neck pain and leg numbness led Stafford into the protocol for the second time this season.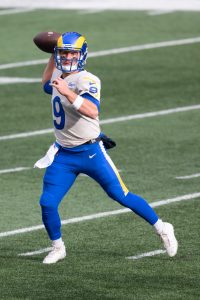 Rams caution with Stafford does not surprise. The sides agreed to a four-year, $160MM extension this offseason, and a shell of an offensive line has contributed to the defending Super Bowl champions' slide. The Rams are 3-8 and making a run at finishing with the worst record by a defending Super Bowl champion — in a non-strike season — in NFL history. The prospect of Stafford, Aaron Donald and Cooper Kupp being shut down for the season remains in play.
Stafford, 34, has taken almost as many sacks in nine games this season (29) as he did during 17 games last year (30). A Rams line that has seen first- and second-stringers go down, with injuries ransacking the unit at every position save for right tackle, has contributed to a few of the team's problems. L.A. ranks 31st in rushing yards, and were Stafford to come back, he would also be without his two highest-profile receivers. It does not look like Kupp will return from ankle surgery this season, and Allen Robinson's disappointing Rams debut is already over due to a foot injury.
Thus, a backup-laden offense will be in the hands of a backup quarterback. It is uncertain if it will stay that way through January, but Wolford is back in the mix for now. A one-time unlikely playoff starter, Wolford has two career regular-season starts. The Rams lost his 2022 start — in Week 10 against the Cardinals — but saw their longtime backup suffer a neck injury as well, leading to Perkins. A 2020 UDFA, Perkins finished with 100 passing yards and two interceptions in the Rams' loss in Kansas City.
Coming into this season, Stafford had only missed time in one of his previous 12 campaigns. A back injury shut him down in 2019. The former No. 1 overall pick has played through numerous issues during his career, but the Rams have him in limbo for the time being.