Sack artists tend be among the highest earners in free agency, but in 2019 we'll find out whether the same applies to a defensive end who has generated a ton of pressure against opposing QBs without a ton of sack dances. We're talking about Patriots standout Trey Flowers, who will look to cash in among a star-studded class of edge rushers.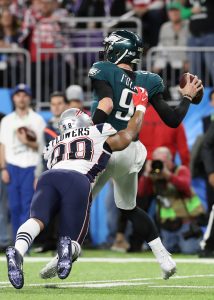 This spring, teams will be champing at the bit for free agents like Frank Clark (10 sacks), Dee Ford (9 sacks), DeMarcus Lawrence (9.5 sacks), Jadeveon Clowney (7 sacks). Flowers, meanwhile, has just 3.5 sacks through ten games this season, meaning that he's on pace for less takedowns than his seven sacks in 2016 and his 6.5 sacks last year.
Of course, sacks don't tell the whole story when it comes to evaluating edge rushers. Flowers has been terrorizing opposing QBs all season long and Jets signal caller Josh McCown can attest to that after he was hit four times by the Arkansas product last week. Heading into the meat of Week 13, Flowers ranks as Pro Football Focus' No. 2 ranked edge defender, behind only Texans superstar J.J. Watt. That's not too shabby for a player who won't turn 26 until August.
Watt, by the way, is under contract through 2021 thanks to the six-year, $100MM contract extension he inked in 2014. Given the widespread need for high-level pass rushers, the increase of the salary cap, and the advancement of the market for DEs, it's possible that Flowers can flirt with or best Watt's $16.67MM average annual value.
The Patriots typically don't shell out big bucks for defensive linemen, but they may want to make an exception here. The Patriots' group of defensive ends beyond Flowers is far from star-studded and they should have the cap room to make his salary fit. A long-term extension with Flowers would cost no less than $13MM annually, so if they're unwilling to commit, they can franchise tag Flowers for about $17.1MM.
If Flowers hits the open market, what kind of contract will he command? Which teams do you think will be in the mix for him? Let us know your thoughts in the comment section.
Photo courtesy of USA Today Sports Images.