Bounce-back seasons from Saquon Barkley and Daniel Jones represent the main on-field reason the Giants are close to becoming one of the more surprising playoff teams in recent memory. Injury issues have dogged the would-be rebuilding squad throughout, but the play of their now-two-time Pro Bowl running back and fourth-year quarterback has them at 8-6-1. The Giants hold a 92% chance, per FiveThirtyEight, of making the playoffs for the first time since 2016.
The subject of Barkley and Jones' future looms, however. Both Giants offensive cornerstones are on track for free agency. This situation reminds of the Titans' quandary in 2020, when they had both Derrick Henry and the resurgent Ryan Tannehill as UFAs-to-be. Tennessee franchise-tagged its All-Pro running back and re-signed its resurgent starting QB. Will the Giants try to play this the same way?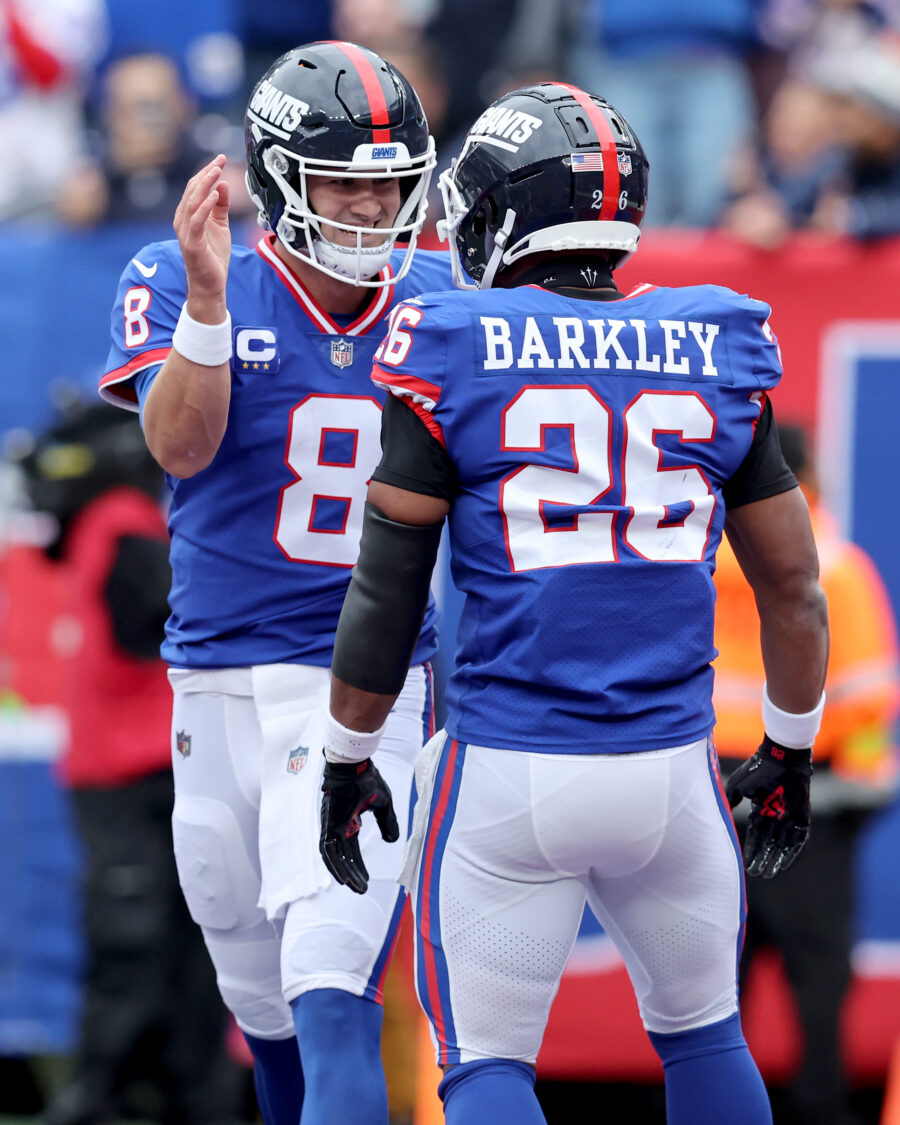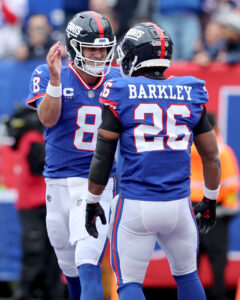 On the Barkley front, that would be the simplest solution. Next year's running back tag is projected to come in at $10.1MM — a steep drop from the projected nonexclusive QB tag of $32.5MM. A $10.1MM tag, as a bridge to a top-market extension, would not clog New York's cap. After needing to jettison veterans this year for cap purposes, with Barkley trade talks even emerging, the Giants are projected to hold nearly $60MM in cap space. That number sits in the top three for 2023.
The Giants already turned down Jones' fifth-year option. This was before he showed considerable progress in Brian Daboll's offense, but still. A team that passed on a $22MM Jones option salary circling back to tag him for $10MM more would represent a strange path — and one that would hamstring Big Blue come free agency. But the Giants' Jones situation, especially with the team on the brink of a wild-card spot, will be a key 2023 subplot.
The 2011 CBA introduced the fifth-year option for first-rounders, and the first batch of decisions arrived in 2014. From then until 2022, no team has passed on a quarterback's fifth-year option and later re-signed him. Christian Ponder, Blaine Gabbert, Jake Locker, Brandon Weeden, Robert Griffin III, EJ Manuel, Teddy Bridgewater, Johnny Manziel, Paxton Lynch, Mitch Trubisky, Dwayne Haskins and Josh Rosen either played out their four-year rookie deals or were moved off the roster before those contracts expired. Jones' efficient fourth season could break some new NFL ground, but the sides will need to come together on an atypical deal — one that may land in currently uninhabited QB salary territory.
Tannehill re-signed with the Titans on a four-year, $118.5MM deal just before the 2020 league year began. The former top-10 Dolphins draftee was coming off a stunning season in his first Titans campaign, piloting the Titans to the AFC championship game. Jones has rocketed from 22nd in QBR last season to 11th this year, but the Giants' pass-catching cadre has capped his rise to a degree. Jones has 13 touchdown passes in 15 games. Despite a ransacked receiving arsenal, the former No. 6 overall pick has limited his turnovers. Jones' 1.1 interception rate is the league's best mark. He is completing 66.5% of his passes, albeit at just 6.8 yards per attempt, and has already established a new career rushing high (617 yards). This still would qualify as more workmanlike season than true breakthrough, but the Giants equipping Jones with better pass catchers could unlock another level for the oft-doubted Duke product.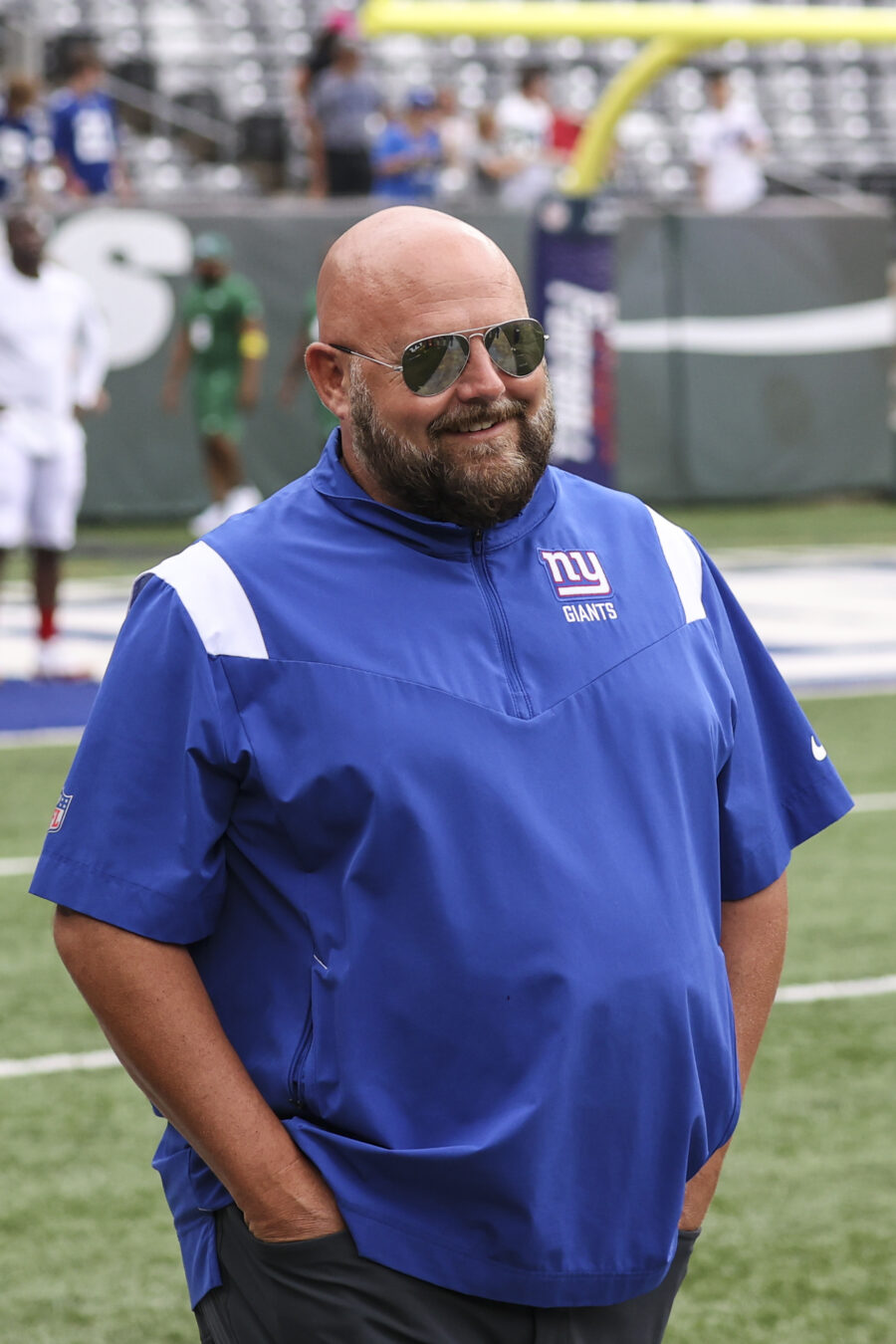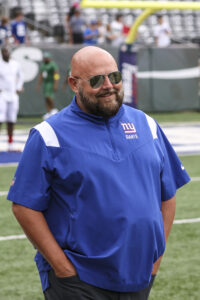 Jones' history, present production and ties to the Dave Gettleman regime complicate a potential Joe Schoen-led negotiation. The rookie GM said the Giants discussed a deal with Barkley but not Jones during their bye week, indicating a clear priority hierarchy. That would make sense, given the first-rounders' accomplishments. Only one quarterback (Tom Brady, an outlier in just about every way) is tied to an average salary between $14MM and $29.5MM. That is a pretty wide range to explore.
Last week's YouTube TV Sunday Ticket agreement should soon provide cap clarity, but teams are operating as if the cap will come in between $222MM and $225MM. That estimate is nearly $30MM north of where the cap was when Tannehill inked his deal, and Jones guiding this Giants team to the postseason could prompt him — his struggles from 2019-21 notwithstanding — to ask for a contract worth more than $30MM per year. Four passers (Kirk Cousins, Jared Goff, Carson Wentz, Matt Ryan) are tied to deals averaging between $30-$35MM per year; those deals sit 10th-13th on the quarterback salary spectrum. Such an ask would test the Giants.
If the Giants let Jones reach free agency, they will not be in a good position to draft his replacement. They are set to pick outside the top 10 for the first time since 2017. The past three offseasons have brought tremendous QB movement, opening new doors for teams seeking upgrades. The free agent market is tentatively slated to include Brady, Jimmy Garoppolo, Geno Smith, Jacoby Brissett and Mike White. Brady has not committed to 2023 and would not seem to line up with the Giants' timeline, while the Seahawks want to keep Smith. UFA-to-be Lamar Jackson will not hit the market.
Tannehill and Derek Carr seem the two likeliest trade candidates of note; the Raiders look to have ignited the Carr market by benching him Wednesday. Both players have proven far more than Jones, but each is much older. The Titans passer will be 35 next season; the now-separated Raiders QB will be 32. Jones will turn 26 in 2023. Carr has obviously proven much more than Jones, and it will be interesting to see if the Giants are connected to him. But Jones has outplayed Carr (league-high 14 INTs) this season and almost certainly will not require a $40MM-per-year contract. How much will it ultimately take to keep him off the market?
The Giants eschewing the trade or free agency routes and focusing on Jones could produce another prove-it season — likely with better receivers — on a one-year deal. The team could also go through with a medium-term agreement, with CBS Sports' Joel Corry comparing this situation to the Jaguars' Blake Bortles talks in 2018. The Jags gave their shaky starter a three-year, $54MM deal that included $26.5MM fully guaranteed. With that contract occurring under a $177.2MM salary cap, a similar Jones arrangement would undoubtedly check in with a much higher value — likely north of $25MM AAV.
If the price escalates much further, the Giants might be inclined to examine other options. The Bortles re-signing did not age well, and Jacksonville took on dead money by cutting him a year later. That mid-tier investment shows the risks of betting on an inconsistent quarterback, but the Giants going in the other direction could disrupt the Daboll-, Jones- and Barkley-geared ascent this year's team has made.
Whether the Giants' new regime pays Jones or tries to acquire an upgrade, the team's 2022 improvement and the Jones-Barkley free agency challenge will give Big Blue a much higher profile entering the 2023 offseason compared to where the franchise resided over the past several years.
Follow @PFRumors