Herm Edwards is a head coach once again, but this time in the college ranks. He's been hired by Arizona State to become the next head coach of their football program, according to Doug Haller of AZCentral Sports (Twitter link). There will be a press conference tomorrow to officially announce the news.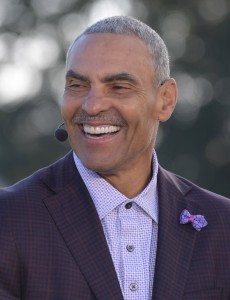 In part of a statement released by the Arizona State Athletics Director, Ray Anderson, he addressed the vision he sees for the program under such a big name in the football industry.
"Our goal for this football program is to reach unprecedented heights, and therefore we need to find a way to operate more innovatively and efficiently than we have in the past," said Anderson. "In the spirit of innovation, our vision for this program is to have a head coach who serves as the CEO and is the central leader with a collaborative staff around him that will elevate the performance of our coaches and players on the field, in the classroom and in the community. Equally important, the head coach will be a dynamic and tireless recruiter." (Courtesy of Mike Jurecki of ArizonaSports.com on Twitter).
Edwards, 63, is best known in the NFL for his tenure as head coach for both the Jets and Chiefs. He led New York to a 39-41 regular season record, including going 2-3 in postseason play. In Kansas City, the fiery head coach appeared in the playoffs once in three seasons before being fired after a tumultuous 2-14 campaign in 2008.
He has not coached at the collegiate level since 1989, when he was a secondary coach at San Jose State, but brings ample amount of experience during his time in the pro ranks.
Edwards had not been recently speculated for any openings in the NFL, but it's always interesting to see how tenured professional coaches perform at the college level of the sport. While it's a completely different game than what Edwards has been used to from coaching in the NFL, then being an analyst of the league for many years at ESPN, the veteran coach should bring a real brand recognition to the Pac-12 school.
Photo courtesy of USA Today Sports Images.