In an interview with WGR 550, Bills GM Doug Whaley touched on a wide range of topics, including his offseason plans and his relationship with coach Rex Ryan. Here's a look at some of the highlights, courtesy of The Buffalo News' Tyler Dunne.
On his relationship with team ownership and Ryan:
 Ownership is great. My relationship with Rex Ryan is something I cherish. I wake up every day happy to come into work with him. With my future, it's one of those things where the ownership doesn't have to tell me anything. I've always attacked my job as, 'Let me do my job, not to lose it. But to keep it and keep getting better.' So until the ownership tells me my keys don't work, I'm here for the long haul and I'm here to get this team where we need to go.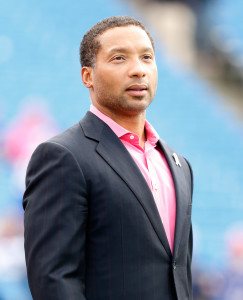 On whether the Bills could draft a QB:
I look at it this way, I have to give credit to our scouting staff because the philosophy into this draft is we'll draft the best player available. That's why we think we were so successful. We didn't see a perceived need or push somebody up and draft on need. Going into this draft, there is no position you can't argue that we should or shouldn't draft. So it opens up the board for us and let's us scout with what we call 'clear eyes' instead of 'needy eyes.' And that helps us be a lot more successful. So to answer your question, there is nothing that would preclude us from taking any position on the board. That could be quarterback, that could be tight end, wide receiver, all across the board we could use an [influx] of young, talented depth.
On what this QB draft class looks like:
Right now, with the seniors, it's not particularly top heavy but it is particularly deep. I think there's a lot of quarterbacks you can get rounds two through six that have a chance to grow and progress into a solid No. 2 and possibly a No. 1 with time and seasoning.
On the areas he'll be targeting this offseason:
With the injuries in the secondary, especially at the safety position, I'm not going to give you a total blueprint because I know people listen and it'd put us at a competitive disadvantage. But we have to get some depth in the secondary. We have to get some depth at the linebacker position. And some of the injuries like Powell, Ty Powell was out, that hurt us. A little more depth at the outside position with Jarius Wynn coming back.
And I just think an impact player on defense, like we brought in impact players on offense last year. So I think that's what we're going to look for, is just the best players available that'll help us get to where we need to go on the defensive side of the ball.
Photo courtesy of USA Today Sports Images.
Follow @PFRumors