The four-year contract between Washington and cornerback Chris Culliver called for any remaining guaranteed money to void in the event that Culliver was suspended due to his March 2014 arrest, two sources tell Zac Boyer of the Washington Times. Because Culliver was ultimately handed a one-game ban (forcing him to miss Week 2 of the 2015 season), Washington is off the hook for his previously guaranteed $8MM 2016 base salary.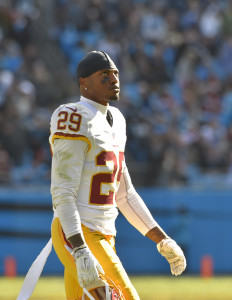 [RELATED: Linebacker Junior Galette expects to re-sign with Washington]
The 27-year-old Culliver was placed on injured reserve in November after tearing his ACL, so between his injury status and the uncertainty regarding his contract, it's unclear whether he'll return to the nation's capital in 2016. Washington could now release Culliver and be hit with just $3.75MM in dead money (as opposed to $11.75MM had Culliver not been suspended, or his contract not contained void language).
For now, Culliver's 2016 cap charge sits $9.25MM, and while Boyer suggests that the two sides could work together to lower that figure, a source tells the Times scribe that no such discussions have occurred as of yet. Washington is among the bottom-10 in terms of 2016 projected cap space, so a reworking of Culliver's deal could hep the club as it enters the upcoming offseason.
[Washington QB Kirk Cousins ranked third in PFR's latest Free Agent Power Rankings]
In 2014, his final season with the 49ers, Culliver limited opposing quarterbacks to a completion percentage of 50.7% and a 66.5 passer rating when they threw into his coverage, according to Pro Football Focus. PFF's grades placed Culliver as the 14th-best cornerback out of 108 qualified players. In 2015, Culliver started six games for Washington, tallying 16 tackles and one pass deflection.
For his part, Culliver appears confident that his ACL tear won't limit his availability for next season. "You know I'm a worker and I'm going to continue to do what I do best," Culliver told Boyer. "That's not going to stop me. The progression, and me doing what I'm doing, is there. Things are ramping up for me. I'm walking pretty decently now, and you know, just light things doing on, and like I said, maybe not the OTAs — you might see me in and out — but definitely during the season."
Follow @PFRumors