Fresh off an 8-8 season, his first with the Bills, head coach Rex Ryan spoke Friday with The Buffalo News' Vic Carucci about the team's plans going forward. Here are some of the highlights…
On possibly drafting a quarterback this year:
"Like anybody, we're trying to add to our football team. If somebody can help us make us better, you don't shut yourself off to any position. That's something that you've got to be open for. It is a quarterback-driven league."
On whether selecting an early round QB would set starter Tyrod Taylor back: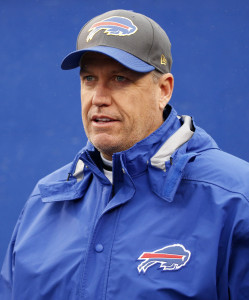 "No, no way, that's not going to distract him. He's worried about, he's focused on winning and improving every day. And I think that's who Tyrod is."
On maligned backup QB EJ Manuel:
"I'm not done with EJ Manuel, either (as a backup to Tyrod Taylor). I think EJ's got the talent, the size and all that stuff. Sometimes, guys just take a little bit longer to develop, so we'll see how that goes."
On Buffalo's defense, which fell from fourth in the NFL under Jim Schwartz in 2014 to 19th with Ryan and Dennis Thurman at the helm in 2015:
"I'm excited to get this group together. I think you're going to (have) the natural maturation going into your second year in a system. I think it's going to help us. I just think guys are ready to get back and ready to say, 'You know what? We're going to find a way to get it done, regardless.' How that's going to look, we'll see. But I'm definitely more confident. I know I feel better about the guys, how people adjust, flexibility of players, different things."
On the hiring of his brother Rob Ryan as the assistant head coach/defense:
"My brother's a great football coach. He's inherited a ton of terrible defenses, some of the worst in the history of the game, and he's flipped them. Was he handcuffed a certain time last year (as defensive coordinator of the New Orleans Saints)? You're dang right he was. But you know what? I don't think it got better when he left."
"I think (Rob) helps us because this guys's a great football coach. He's been a coordinator for 12 years. He's got two Super Bowl rings as an assistant coach, as a position coach. I think that's only a plus and not a negative. And people who look at it as a negative have no idea what they're talking about."
Rex Ryan also added that the Bills could focus more on offense than defense in the draft, citing QB and wide receiver as potential need areas, according to Carucci. Taylor, 26, held his own this past season, his first as a starter, but the Bills don't appear sold on him as a franchise-caliber signal caller. As for wideout, other than Sammy Watkins, they're lacking game-breaking talent.
Photo courtesy of USA Today Sports Images.
Follow @PFRumors