TUESDAY, 2:27pm: There are teams interested in Manziel, but that interest comes with a caveat, says Ian Rapoport of NFL.com (all Twitter links). As Rapoport explains, clubs will want to see what the NFL decides on potential discipline for Manziel, and the league's investigation is in a holding pattern while a grand jury considers the case. It may be months before the NFL is able to make any decisions.
Of course, any interested team will certainly also want to see Manziel seriously commit to making better life decisions off the field.
MONDAY, 9:59pm: Can Johnny Manziel find an NFL home sometime soon? Well, at least one person thinks he can. Manziel's new agent, Drew Rosenhaus, says that there is interest in Manziel this offseason, despite his recent off-the-field problems.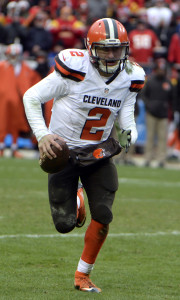 "I'm not talking much about him publicly," Rosenhaus said Monday, according to Clarence E. Hill Jr. of the Star-Telegram. "Much of his life and career is public so from the business side we are trying to keep that behind the scenes. Yes, there are teams interested in him."
At this stage, it's hard to tell whether Rosenhaus' comments are rooted in truth or are simply the bluster of an aggressive agent. For starters, Manziel is being investigated over a Jan. 30 altercation with ex-girlfriend Colleen Crowley. Crowley alleges that Manziel assaulted her and ruptured her eardrum. The Texas A&M product has also had issues with alcohol and has declined re-entry into rehab multiple times.
The 23-year-old made eight starts and played in 15 total games for Cleveland, completing 57% of his passes (147 of 258) for 1,675 yards, seven touchdowns, and seven interceptions. His overall passer rating was 74.4.
Time will tell, but we have a hard time imagining that teams are clamoring to sign Manziel at this point. If he is able to get his personal troubles in check, however, there could certainly be renewed interest in the former first-round pick.
Photo courtesy of USA Today Sports Images.
Follow @PFRumors