Some players have been critical of former Eagles coach Chip Kelly, but wide receiver Jordan Matthews isn't in that camp. At the same time, he readily admits that there are major differences between Kelly and new coach Doug Pederson (via CSNPhilly.com).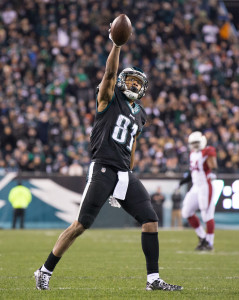 "It's crazy. Growing up in Alabama, you're around a bunch of the country, family guys and that's definitely Doug. But I also spent some time at Vanderbilt with the smart guys and that's Chip, so I've basically had a Doug Pederson and a Chip Kelly in my lifetime just from my years of playing football," Matthews said. "I know people like to compare and do all that kind of stuff, but it's apples and oranges. Chip, when I was playing for him, he was a new head coach, and now it's the same way with Doug and he's going to do some things different than maybe what people (have) seen in the past. But I've had great experiences with both of them. I feel like I'm extremely lucky I've had the opportunity to work with both these guys."
Here's more from the NFC East:
The Eagles' lack of depth at linebacker means that some of the team's rookies will have a better chance at making the roster, Zach Berman of the Philadelphia Inquirer writes. Last year, outside linebackers Mychal Kendricks and Nigel Bradham and middle linebacker Jordan Hicks combined to miss 15 games, which means that the team's depth at those positions will be critical. Behind those three, Najee Goode's spot is virtually guaranteed while Ty Powell and Deontae Skinner will have to play their way onto the roster, despite also having NFL experience. Seventh-round pick Joe Walker is also in the mix, but his late-round status means that he is far from a lock. With uncertainty on the depth chart, the door is open for UDFAs Myke Tavarres and Quentin Gause.
Redskins veteran DeAngelo Hall is getting more comfortable at safety, Tarik El-Bashir of CSNMidAtlantic.com writes. The 32-year-old was asked to switch to safety when he returned from injury in Week 10 after Chris Culliver and Bashaud Breeland solidified themselves at cornerback. This year, Hall is hoping to excel in his transition to safety like Charles Woodson, Rod Woodson, and Ronde Barber did before him.
Former Giants and Eagles defensive back Walter Thurmond will retire from the NFL. Thurmond, who joined the Eagles a year ago as a cornerback, ended up starting 16 games for the first time in his career while also playing safety for the first time. He excelled at the new position, picking up 71 tackles, three interceptions, two sacks, and two forced fumbles. Pro Football Focus' grades backed up his solid stat line, as he ranked 26th out of 88 qualified safeties.
Follow @PFRumors