Jermaine Gresham could have earned more money on the free agent market this spring, but the veteran tight end preferred to re-sign with the Cardinals in order to contend for a Super Bowl, as he explains to Bob McManaman of AZCentral.com. Per Gresham, the Jets, Bears, and a third unnamed club all expressed interest in him earlier this year, and he was apparently offered a four-year, $23MM deal that contained $12MM guaranteed.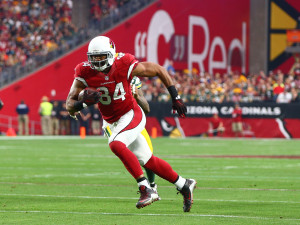 "[M]y agent tried talking me out of it," said Gresham. "But I think he felt that my happiness is more important. He saw my vision and he sid[ed] with me all the way to the end… I feel like I didn't necessarily put my best foot forward last year and, hopefully, I'll be able to significantly improve upon that and, hopefully, help make things even better than it was last year."
Obviously, we can't know the exact structure of any other deals that were apparently offered to Gresham, but if he was actually presented with $12MM guaranteed, it's hard to imagine that re-signed with Arizona, who committed just $3MM in guaranteed money. Gresham, 28 this week, wasn't especially effective in 2015, catching just 18 passes for 223 yards — while he graded out as an excellent run-blocker, he was overmatched in the passing game, according to Pro Football Focus.
All of which is to say that Gresham probably should have cashed out while he had the chance, as the proposed deal mentioned would have been one of the best contracts signed by a tight end this offseason. Only Coby Fleener, who signed a five-year pact with the Saints, would have come out ahead in either annual average value of guarantees.
Chicago was clearly interested in securing another tight end, as in addition to this reported wooing of Gresham, the club signed the Saints' Josh Hill to a restricted free agent offer sheet, which New Orleans ultimately matched, and re-signed veteran Zach Miller. New York, on the other hand, did hardly anything at the tight end position this offseason, opting to simply re-sign journeyman Kellen Davis.
Photo courtesy of USA Today Sports Images.
Follow @PFRumors