THURSDAY, 5:41pm: The fact that Jeffery's chosen to train independently in Miami has helped dissuade the Bears from engaging in substantial long-term extension discussions, Jason Cole of Bleacher Report notes (video link). Although Jeffery and Jay Cutler have played together for four seasons, the second-year power structure of Ryan Pace and John Fox would prefer to see the fifth-year receiver working with the team in Chicago to develop a stronger rapport with the eighth-year Bears passer after being limited to nine games last season.
TUESDAY, 10:32am: Back in March, the Bears applied the ~$15MM franchise tag to Alshon Jeffery to keep him in Chicago for the 2016 season. At the time, it was widely expected that the two sides would shake hands on a new multi-year deal before the start of the 2016 season. Apparently, that is not going to be the case. There are no indications that the Bears will push to get a long-term deal solidified for Jeffery this summer, league sources tell Dan Wiederer and Rich Campbell of the Chicago Tribune. At this point, it is a "near certainty" that he will play out this season under the franchise tender, Wiederer adds.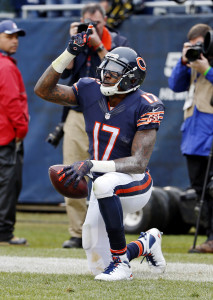 After averaging 87 receptions and 1,277 yards in 2013 and 2014, Jeffery was plagued by injuries in 2015, but he was excellent when healthy, averaging a career-high 89.7 yards per game. Now, the Bears want Jeffery to prove that he can stay healthy before they give him eight figures per season on a long-term pact. The wide receiver, predictably, wants his guaranteed cash now and is skipping OTAs to try and get his point across. Still, according to Campbell, the expectation is that Jeffery will be at the mandatory minicamp in mid-June and at training camp in late July.
One could argue that Jeffery would be better off playing out the 2016 season under the franchise tag anyway. After missing seven games in 2015, Jeffery could boost his leverage by turning in that same kind of output across a full 16-game season.
The Bears started to remodel their team last season but, despite some speculation to the contrary, the team did not shop Jeffery. This offseason, the Bears had no intention of letting him hit the open market. Had he been an unencumbered free agent, however, he would have ranked near the top of PFR's Top 50 NFL Free Agents list. The wide receiver market this spring was headlined by the likes of Marvin Jones, Travis Benjamin, Rishard Matthews, Rueben Randle, Anquan Boldin, Jermaine Kearse, and Mohamed Sanu.
Photo courtesy of USA Today Sports Images.
Follow @PFRumors