WEDNESDAY, 7:41pm: Williams' agent, Evan Krakower, has issued a press release regarding his client. The entire statement can be found on Twitter. Part of it reads, "It is extremely puzzling that the Browns comments have ignored the significant treatment they have provided K'Waun to his ankle up to the night in question."

Krakower continued, "In light of his previous service to the team and his injury history, we believe the Browns suspension and fine are excessive in nature at best, and totally unwarranted at worst. A punishment of this excessive nature of a player, with aprevious exemplary record on and off the field, is inappropriate. Therefore, Mr. Williams will be appealing this fine and suspension through the appropriate channels."
6:23pm: Williams had a second opinion on his ankle at the Cleveland Clinic on Wednesday, and a specialist told him that he'll have to undergo surgery to remove bone spurs, his agent told Cabot. Williams, therefore, will appeal the punishment the Browns handed him. However, University Hospitals – not the Cleveland Clinic – is the team's hospital, tweets Cabot.
TUESDAY: The Browns are suspending cornerback K'Waun Williams for two weeks as a result of an "ongoing dispute" regarding his standing with the club, according to Ian Rapoport of NFL.com (Twitter links). Williams, whose suspension is for conduct detrimental to the team, will also be docked one game check.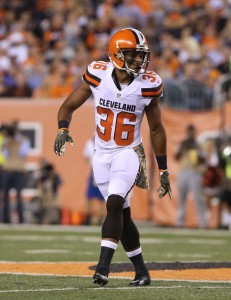 [RELATED: Browns, Desmond Bryant discussing 2016 payment]
As Mary Kay Cabot of Cleveland.com details, Williams' future with the Browns is now in jeopardy following an episode last week. After Williams suffered an ankle injury during an intrasquad scrimmage, he declared himself out for Cleveland's first preseason contest, a decision which irked the club's management. The Browns listed Williams's absence as due to a personal reason, and the third-year pro hasn't returned to camp since.
"We'll talk about that at a different time," head coach Hue Jackson said Tuesday. "I just think there are a lot of mixed messages that are going on as far as all that's concerned. We'll deal with it, and I'm sure we'll all talk about it at the appropriate time."
While some sources have told Cabot that the Browns are under the impression that Williams may retire, other sources told the Cleveland.com scribe that Williams was merely away seeking a second opinion on his ankle. Indeed, Nate Ulrich of the Akron Beacon Journal hears (Twitter link) that Williams will get a new opinion on his injury tomorrow. Williams, who has served as the Browns' slot corner in each of the past two seasons, was reportedly unhappy that trade acquisition Jamar Taylor had been playing ahead of him in nickel packages, tweets Rapaport.
Williams, 25, figures to appeal any suspension or loss of pay, according to Cabot (Twitter link).
Photo courtesy of USA Today Sports Images.
Follow @PFRumors