After weeks of silence, the Chargers are once again talking with Joey Bosa's team in an effort to get his rookie contract signed, sources tell USA Today's Jarrett Bell. It's not clear if the two sides have made real progress towards an agreement, however.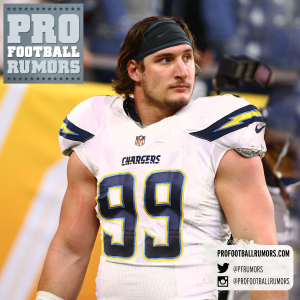 [RELATED: Chargers Claim Rasheed Bailey From Jaguars]
The Chargers have been insistent on Bosa accepting offset language in his deal that would take them off the hook in the event that he would be released before the scheduled conclusion of the deal. The Bolts are also pushing for part of Bosa's signing bonus to be deferred. Bosa's reps say that they will not accept both of those terms, particularly since four of the players to go in the top 10 of this year's draft will receive most or all of their signing bonuses in 2016.
In order for Bosa to agree to offset language, agent Todd France reportedly wants the Chargers to pay all ~$17MM) of his bonus this year. San Diego, meanwhile, would rather wait until next March to dole out a "significant portion" of the bonus. At last check, the Chargers want to give Bosa roughly 61 percent of his signing bonus during this calendar year, which is the same payout schedule the Cowboys agreed to with fourth overall selection Ezekiel Elliott, who was Bosa's teammate at Ohio State and went one pick after him.
Photo courtesy of PFR on Instagram.
Follow @PFRumors