SUNDAY, August 14: Head coach Mike Tomlin insists that it is Green's ankle problems, and not his headaches, that have kept him on the PUP list, as Chris Adamski of The Pittsburgh Tribune-Review writes. Tomlin would not confirm reports that Green is experiencing lingering headaches and is considering retirement. Said Tomlin, "He's on PUP because of his ankle. We stated that. He's rehabbing nice. He's gotten better in that area, but he's not ready to go. I'm not going to respond to reports from unnamed sources." It may be that Tomlin is engaging in a little misdirection here, as the reports concerning Green's headaches appear to be well-substantiated.
THURSDAY, August 11: Thanks to the headaches that have kept him sidelined this summer, Steelers tight end Ladarius Green is considering retirement, a source suggested to Mike Florio of Pro Football Talk. Retiring would be a costly decision for Green, notes Florio, who writes that the 26-year-old would have to return the $4.75MM signing bonus the Steelers gave the ex-Charger upon inking him to a four-year, $20MM deal in free agency.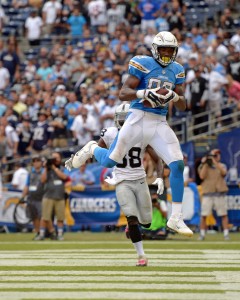 Even if Green doesn't walk away from football, he isn't a lock to make the Steelers. In fact, the source informed Florio that they might cut him. If that happens, there's a chance the Steelers could still pursue his signing bonus. Pittsburgh would likely cite the case of free agent defensive end Jonathan Fanene, whom the Patriots handed a $3.85MM signing bonus in 2013 before eventually cutting him on account of a knee injury that they argued came from a condition he failed to disclose. New England didn't recoup the entire bonus from Fanene, but it did recover $1.35MM.
Green suffered two apparent concussions in as many weeks last September and then complained of headaches, but he told Mark Kaboly of the Pittsburgh-Tribune Review in March that those were merely misdiagnosed sinus issues. Green, who also missed a game in 2014 because of a concussion, went on to indicate to Kaboly that those troubles were behind him. However, Green clearly has an unfortunate history of head injuries, and if the Steelers don't feel he was honest about his headaches when they signed him (if he was dealing with them at the time), they'll have a case to take back at least some of the $4.75MM bonus.
Putting finances aside, not having a healthy Green would be a blow to a Pittsburgh team that is still counting on him to serve as its No. 1 tight end. As Roster Resource shows, Pittsburgh's primary non-Green options are 2015 fifth-round pick Jesse James and 2014 undrafted free agent Xavier Grimble. James has eight career receptions, while Grimble hasn't yet appeared in an NFL game.
The Steelers brought in Green to replace the retired Heath Miller, who amassed 592 catches – including 60 last season- in his 11-year career. The 6-foot-6, 240-pound Green wasn't quite that prolific in San Diego, where he lost targets to fellow tight end Antonio Gates, but he set multiple career highs last season and, if he regains health, has a chance to break out in the Steelers' Ben Roethlisberger-led passing attack.
Photo courtesy of USA Today Sports Images.
Follow @PFRumors