The Chargers and first-round pick Joey Bosa haven't had any contact since July 28th, Adam Schefter of ESPN.com tweets. Bosa stands as the only unsigned rookie in this year's class and few expected his contract wrangling with the Bolts to go on for this long.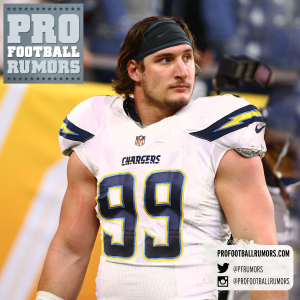 As Schefter notes, Chargers greats Philip Rivers, LaDainian Tomlinson, and Shawne Merriman also had prolonged contract negotiations with the team before ultimately signing their rookie deals. Of course, that was back when rookie contract holdouts were commonplace. Under the current CBA, rookie holdouts are much less frequent and even the trickiest ones seem to wrap up by the middle of the summer. Unfortunately, there is no end in sight for this stare-down between the Chargers and the Ohio State product.
Technically, the Chargers have until tomorrow to trade Bosa's rights but one source with knowledge of the situation tells Mike Florio of PFT that it's highly unlikely that any team retained enough rookie pool space to accommodate his contract.
Meanwhile, Bosa's mother took to Facebook over the weekend with some interesting comments. "It bums me out for him so much," she wrote. "Wish we pulled an Eli Manning on draft day." Manning, of course, forced his way out of San Diego after being selected with the top pick in the 2004 draft.
It's important to keep Bosa's family in mind, Alex Marvez of The Sporting News tweets, since the defensive end comes from a wealthy household and doesn't have any pressure to immediately collect on an NFL contract. In theory, Bosa could survive a year-long holdout in order to re-enter the draft pool next year. Of course, after a year away from football, it's unlikely that he would go No. 3 or higher in the 2017 draft. Bosa will be ineligible to play this season if he doesn't sign by the Tuesday after Week 10.
In order for Bosa to agree to offset language, agent Todd France reportedly wants the Chargers to pay the 21-year-old the entirety of his signing bonus (approximately $17MM) in 2016. San Diego, meanwhile, would rather wait until next March to dole out a "significant portion" of the bonus. At last check, the Chargers want to give Bosa roughly 61 percent of his signing bonus during this calendar year, which is the same payout schedule the Cowboys agreed to with fourth overall selection Ezekiel Elliott, who was Bosa's teammate at Ohio State and went one pick after him.
Photo courtesy of PFR on Instagram.
Follow @PFRumors