Will RGIII succeed in Cleveland? Mike Freeman of Bleacher Report asked around about the free agent acquisition and league execs were not optimistic about how the QB will perform.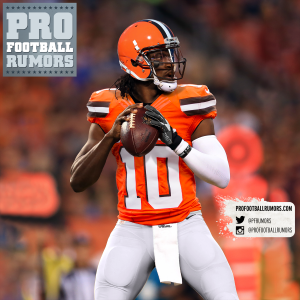 "RG3 is going to bury Hue [Jackson] ," one GM said.
"Hue is going to find out that RG3 isn't coachable," another front-office executive said.
"RG3 is going to drag Hue down with him," one scout said.
Griffin was a superstar early on with the Redskins, but things fizzled out for him in a hurry as his relationship with coach Mike Shanahan also went south. Under coach Jay Gruden, he watched Kirk Cousins go from understudy to undisputed starter, ending his D.C. run in bizarre fashion. Still, the Browns see something in the former Baylor star and their commitment to him this offseason clearly demonstrates that. In the spring, the Browns inked him to a two-year pact worth $15MM, with a signing bonus of $3.5MM and $6.75MM in total guarantees.
Here's more from the AFC North:
Will former Ravens running back Ray Rice get another chance in the NFL? Many are skeptical of that, but Rice is staying optimistic. "In my heart of hearts," Rice told ESPN's Mike & Mike (video link), "it will happen." Of course, teams are wary of taking on the PR hell storm that would come with signing Rice and it also doesn't help that his last season played in the NFL was lackluster. For what it's worth, Rice blames his 2013 struggles on a torn muscle which has since healed up.
Ladarius Green signed a four-year, $20MM contract with the Steelers but has not practiced a down with them yet after January ankle surgery. With that in mind, Ed Bouchette of the Pittsburgh Post-Gazette wonders if the Steelers made a mistake with their major free agent signing. As shown on Roster Resource, the Steelers' TE depth chart beyond Green leaves a lot to be desired. Jesse James has minimal game experience, Xavier Grimble never has played an NFL game, and Michael Cooper and Paul Lang are undrafted rookies. H-back David Johnson has experience, but mostly as a blocker. If Green is going to miss significant time, one has to wonder if the Steelers will be in the market for a tight end addition.
Will Desmond Bryant receive his $6MM base salary for the 2016 season? He may have to battle it out with the Browns.
Photo courtesy of PFR on Instagram.
Follow @PFRumors