Despite Jeff Fisher's Rams underwhelming on opening night of their Los Angeles reboot, the subject of an extension for the longtime coach has been one of this week's primary discussion topics. That continued on Saturday.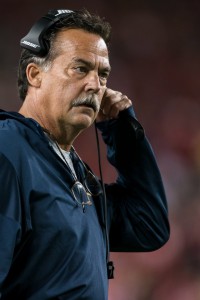 On the subject of a long-rumored extension for the fifth-year Rams coach, Mike Florio of Pro Football Talk reports "widespread belief" around the NFL points to the sides already having an extension in place. The sense around the league, Florio writes, is Fisher's extension will be announced at an appropriate time for the Rams. Days after a 28-0 defeat to a 49ers team expected to finish last in the NFC West doesn't look like the right time, in the event an agreement has been completed.
In the final season of a five-year, $35MM deal, Fisher evaded these rumors earlier this week but didn't deny an extension was in place, only saying he would not discuss it publicly. This came on the heels of conflicting reports regarding the 58-year-old Fisher's future.
We heard midway through the week the presumed extension for Fisher wasn't on the table after the Rams became the first team to be blanked in Week 1 since the 2009 Rams, but another report emerged later saying re-ups for Fisher and GM Les Snead remained likely.
Under Fisher, the Rams have improved from their late-2000s swoon. Although, despite the franchise re-emerging as a competent operation following four years featuring three or fewer victories between 2007-11, the team has not finished above .500 under Fisher's watch. The Rams have won seven games three times during the former Titans coach's run.
Fisher is 169-157-1 in his 22-year coaching career, with the 157 losses tying him for third all-time. With 165 defeats, Dan Reeves (190-165-2) holds the NFL record for losses as a head coach. Fisher's longevity lends itself to a high ranking in this category, but he trails both coaches ahead of him — Reeves and Tom Landry (250-162-6) — in wins by a considerable amount. It would be interesting if the Rams made a decision to extend Fisher as he approached this mark, but signs continue to point to the Los Angeles native remaining with the team.
Photo courtesy of USA Today Sports Images.
Follow @PFRumors