Earlier this week, the Joey Bosa saga finally came to a close when the Chargers and the rookie's reps compromised on a contract. As the talks dragged on, the tenor of the negotiations got uglier and uglier, including the Bolts' unprecedented move of publicly releasing details of their contract offer. That press release raised eyebrows in the football world, but team president of football operations John Spanos says he has no regrets.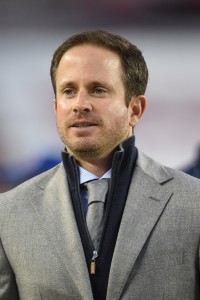 [RELATED: Chargers Release James Jones]
"Obviously, it was a difficult decision," Spanos told Xtra 1360 Fox Sports Radio (via ESPN.com). "Any time you're in a tough negotiation, everything you do is a difficult decision. And let me be clear: It's certainly never our preference to make any public comments. It's not how we've operated in the past, I would say, and only [on] the rarest of occasions. In fact, I've probably been involved in hundreds of player negotiations and contract agreements, whether it's helping out or leading, throughout my lifetime, and that's the first time I've ever said anything public.
"So that shows you how rare that is. It's not what we prefer to do — only, I would say, when we're forced to do it. The bottom line is if someone were to tell me that's why we got it done, then, yeah, I would do it again, because our goal the whole time was we wanted him here. And we were going to do whatever it takes to get him here."
Releasing the details of the offer probably rubbed Bosa the wrong way and some believe that it could give pause to rookies and free agents in the future. Spanos personally believes that free agents will not be deterred by the tenor of the Bosa negotiations and feels that sunny San Diego will continue to be a desirable landing spot for players. I can't dispute the appeal of San Diego as a city, but I have my doubts as to whether players will turn a blind eye to the way the Bosa discussions went.
Photo courtesy of USA Today Sports Images.
Follow @PFRumors