The Packers shocked the NFL world by releasing Pro Bowl guard Josh Sitton during final cutdowns, and while there's been some speculation as to what Green Bay was thinking with the move, confusion is still abounds regarding the club's decision. However, Bob McGinn of the Milwaukee Journal-Sentinel yesterday attempted to make some sense of the situation, and ultimately came to the conclusion that general manager Ted Thompson & Co. made a mistake by parting ways with one of its best players.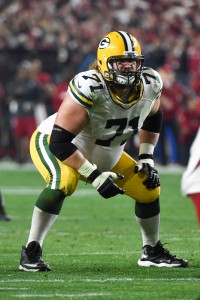 [RELATED: Aaron Rodgers Wants To Play Past Age-40]
Sources tell McGinn that the Packers told Sitton is mid-August that extensions for David Bakhtiari, J.C. Tretter, T.J. Lang, and Eddie Lacy would be the priority, meaning Sitton wouldn't be getting a long-term deal any time soon. While Sitton may have been upset at that news, he never showed, as far as McGinn could tell. And while Green Bay had mentioned a possible Sitton trade to at least one team, serious discussions didn't occur until final cutdown weekend.
At that point, the Packers told Sitton he would be released if the club couldn't find a trade partner. Green Bay, per McGinn, was "apoplectic" that it couldn't locate another team willing to part with draft compensation in order to acquire Sitton. The Saints expressed some interest, but their cap problems and lack of a fifth-round pick prevented them from making a deal.
With a trade seemingly impossible, the Packers began to worry that Sitton would become a locker room distraction if he was kept on the roster, according to McGinn. If other Green Bay players began to sign extensions while Sitton remained in his contract year, the problem might only get worse, thought the club's front office.
Still, there's been no indication that Sitton planned to hold out or become any sort of pariah. And on the whole, McGinn seems correct — the Packers made a massive miscalculation by parting ways with Sitton. Green Bay likely would have recouped a compensatory pick by simply letting Sitton play out the season and find a new home in free agency. Now, the Packers will move forward with Lane Taylor in the starting lineup, and having received noting in return for Sitton.
Photo courtesy of USA Today Sports Images.
Follow @PFRumors