The topic of an 18-game schedule remains on the fringes of the NFL news cycle, and Mike Florio of Pro Football Talk writes the league can't realistically ask the NFLPA to expand in this safety-conscious climate. However, Florio writes a belief in league circles centers around the potential offering of concessions to the players — such as a greater slice of the financial pie, roster expansion and neutral arbitration — for the two-game bump.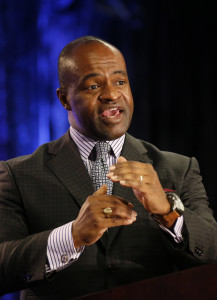 NFLPA executive director DeMaurice Smith is not ready to go there, though.
"I just can't imagine a world where you add two more regular season games at the end of a brutal season that we have," Smith told Florio on Friday's PFT Live. "Certainly, there's been no proposal from the owners about increasing roster sizes or doing anything else to make sure that players' health and safety is first and foremost.
"I mean look we are still in the middle of or the beginning of an investigation about how doctors handled the concussion protocol for the first game of the season and it seems to me that if you can't successfully pull off a Hall of Fame game and you have what appears to be enough evidence to convince both parties to conduct an investigation of the concussion protocol, [it's] probably not the right time to think about adding two regular-season games."
Smith's stance maintains the NFLPA's previous player safety-based argument against this. He did not squash this notion entirely but clearly has other matters on his agenda before that discussion becomes serious. Considering how long the 18-game idea has been batted around, it's not at this time realistic.
Last year, this topic resurfaced on the basis of international contests and reducing the preseason. It did not gain much steam, however, since reducing the exhibition slate and relocating games to foreign soil wouldn't do much to squelch concerns about player safety.
The NFL has played 16-game regular seasons since 1978. The NFL played 14-game seasons from 1961-77 after moving from 12 previously.
Photo courtesy of USA Today Sports Images.
Follow @PFRumors