The Panthers don't seem likely to make a deal before Tuesday's trade deadline, according to Bill Voth of Black and Blue Review. Carolina head coach Ron Rivera spoke with reporters — including Voth — this week, and spoke to the odds of general manager Dave Gettleman swinging a trade in the coming days.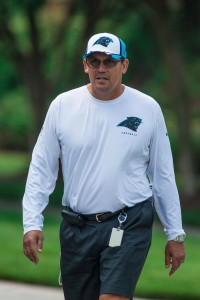 [RELATED: Carolina Panthers Depth Chart]
"I think it's one of those things where there's a number of names are out there," Rivers said yesterday. "And I know Dave and his guys have been looking at those guys. But whether we're going to be an active participant or not, I'm not sure if that's been decided."
Though the Panthers have areas of their roster that could use upgrades, the club's surprising 1-5 start means sacrificing draft compensation for an immediate talent infusion might not be the correct course of action. Both Football Outsiders and FiveThirtyEight give Carolina less than a 10% chance of earning a postseason berth, and even the most significant addition wouldn't do much to affect those odds.
So while a unit such as the defensive backfield (which ranks 27th in defensive passing DVOA, and recently saw its 17th and 18th transactions in activating Leonard Johnson and placing Teddy Williams on IR, according to Joseph Person of the Charlotte Observer) could use help, a deal doesn't appear likely to come to fruition. However, while the Panthers might not be buyers next week, that doesn't necessarily mean they'll be sellers.
"I don't think there's anybody we're looking to sell. I think for us, everything is going forward," Rivera said. "We're in an interesting position in terms of our core guys. There's eight, nine, ten of them that we feel really good about going forward."
"I think we've got a good, solid group," Rivera continued. "If anything, who knows, maybe there is something that we're looking at."Maybe this is the type of game that could dictate whether or not we're buyers. But that's pure speculation."
Follow @PFRumors