The comments that Norv Turner made upon his resignation as Vikings offensive coordinator last week indicated that his decision was wholly voluntary and that he truly believed he was preventing Minnesota from realizing its full potential on the offensive side of the ball. But one always wonders if those types of decisions are truly voluntary, or if the club is simply allowing a respected coach to depart without the ignominy of being fired.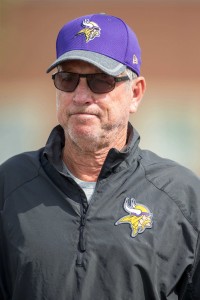 That does not seem to be the case with Turner, as both Jason La Canfora of CBS Sports and Ian Rapoport of NFL.com write. Per La Canfora, the decision took the entire Vikings organization by surprise, and Turner was not pressured to step down in any way. La Canfora adds that Turner and newly-promoted OC Pat Shurmur–who was serving as the tight ends coach prior to Turner's resignation–had a strong working relationship, but it became clear during a full staff meeting Tuesday afternoon that Turner and head coach Mike Zimmer had incompatible opinions on how to spark the Vikings' stagnant offense. The personal relationship between the two men remained strong, but their differing professional viewpoints triggered the split.
Rapoport's piece is largely consistent with La Canfora, though Rapoport does add that Shurmur was a "huge proponent" of the Sam Bradford acquisition and that Shurmur and Bradford "speak the same language," whereas Turner was a bit of an outsider when it came to his newly-acquired quarterback.
Both Rapoport and La Canfora indicate that Turner has not ruled out resuming his coaching career, although Turner himself said that any new job would "need to be a right place and with the right people."
Photo courtesy of USA Today Sports Images.
Follow @PFRumors