Before the Giants agreed to sign Robbie Gould to replace the embattled Josh Brown, they apparently had some competition for the veteran placekicker. Speaking to reporters, including Mark Cannizaro of the New York Post, Gould said he received a "bunch of offers" before inking a deal with the Giants.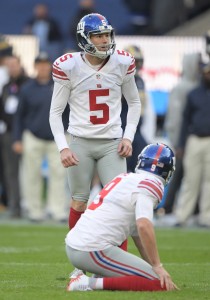 [RELATED: New York Giants Depth Chart]
 "I was in a great position because I could wait for the perfect opportunity to get into a situation where I knew I could win and possibly win a Super Bowl and find a place I could stay for a little bit of time," Gould said. "The biggest thing for me was I want to win a Super Bowl and play for a great organization and with the Giants everything fit that mold. So it was a really easy situation to say yes to."
Gould, 34, said last month that he wouldn't have signed with the Giants if he didn't think he had a good chance of staying with the club for the duration of the season. Given that New York has since released Brown, Gould will likely remain the team's kicker for the rest of the 2016 campaign, but thus far, he hasn't gotten much work. In three games, he's attempted just one field goal (a successful 29-yarder against the Rams), but he's also converted each of his field goal tries. Additionally, Gould ranks eighth in the league in average kickoff distance.
On Sunday, Gould will square off against the Bears in something of a "revenge game" given that it was Chicago that released him before the season began. "If my performance wasn't up [the Bears'] caliber, then that was their choice," he said. "I was kicking great, had a really good camp, kicking off well, kicking field goals great. It was just was a decision that they made. I didn't know it was coming."
Photo courtesy of USA Today Sports Images.
Follow @PFRumors