Bills right tackle Seantrel Henderson served a four-game suspension to begin the season because of a violation of the NFL's substance abuse policy. Now, a month and a half after the Bills activated Henderson, another ban is imminent for the third-year man, reports Jay Skurski of the Buffalo News.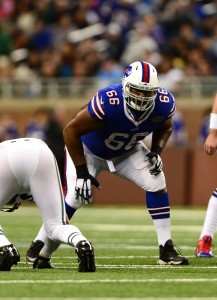 Henderson's previous suspension resulted from medicinal marijuana use, and that's likely to be the case again this time. The 24-year-old has been using it to treat Crohn's disease, which he was diagnosed with last year, but the league hasn't been sympathetic.
"I've got doctors telling me this is the No. 1 medicine that would help your disease," Henderson said last month, according to Skurski. "You try to tell that to the league and it seems like they didn't care too much."
While Henderson's marijuana use dates back to his time at the University of Miami (one reason he fell to the seventh round of the 2014 draft), he insists he now utilizes it only to treat his disease.
"I hadn't even been thinking about marijuana until it was brought up to me by a doctor," he said. "Since I've been in the league, I've been in the program. I got drug tested three times a week. There's no recreational use. There's none of that."
Unfortunately for Henderson, even though the majority of states – including New York – allow some sort of medical marijuana use, it doesn't appear the league is willing to soften its stance. However, various executives around the sport are pushing for less draconian measures.
Henderson has played in only one game this year after starting in all 26 appearances during his first two seasons – including 16 as a rookie. Thanks in part to his health issues, Henderson lost the Bills' No. 1 right tackle job to Jordan Mills.
Photo courtesy of USA Today Sports Images.
Follow @PFRumors